A Timely Signage Solution
Panco Management Reacts Quickly to Pandemic with Branded Social Distancing Signage
Panco Management has offered some of the finest properties and living amenities on the East Coast for more than 50 years. Panco's mission is to provide an exceptional living experience to residents by continuously investing in and managing their residential properties at the highest level.
The Challenge
With the COVID-19 pandemic in full swing, Panco Management contacted Graphcom to discuss how to create a safe environment for their employees, residents, and visitors. They requested branded social distancing signs that were educational, instructive, and well-designed. Additionally, the signs needed to work equally well in all areas of the properties and fit in with the luxurious surroundings.
The Solution
Graphcom's Signage division explained various options that would work well in the requested areas. We then helped Panco determine the necessary messaging. For example, vinyl floor decals—durable for a variety of flooring types—promote social distancing, and stanchions help direct traffic inside the leasing centers. We also offered easels and UV-printed poster boards as an elevated option for the leasing center entrances. On the property's exterior, we installed A-frames, WindMaster® signs, and traffic cones with branded inserts and decals.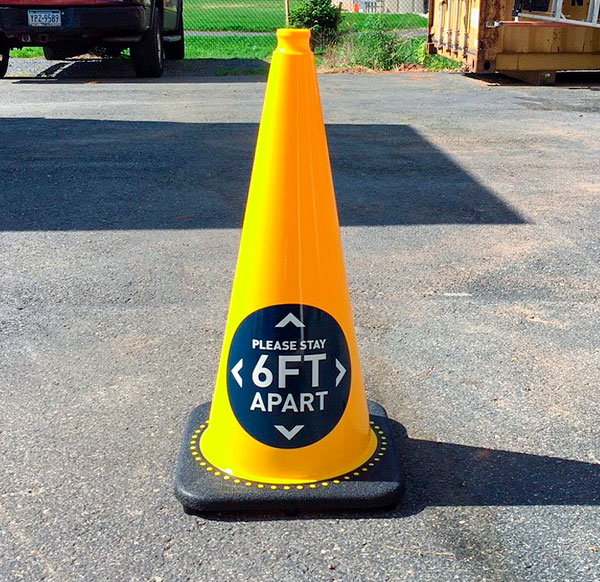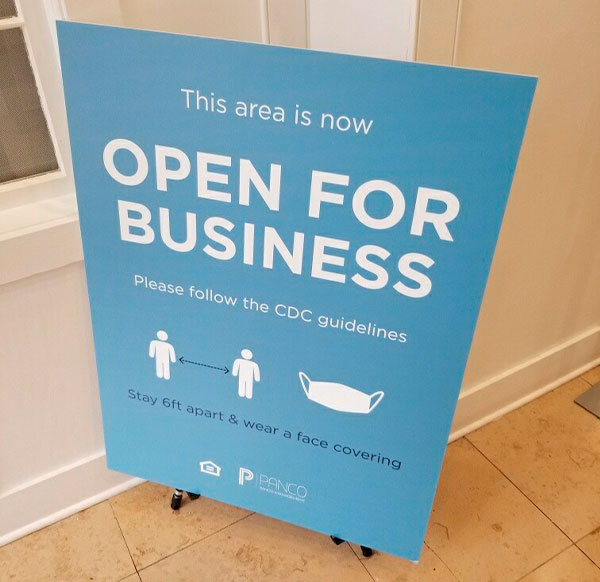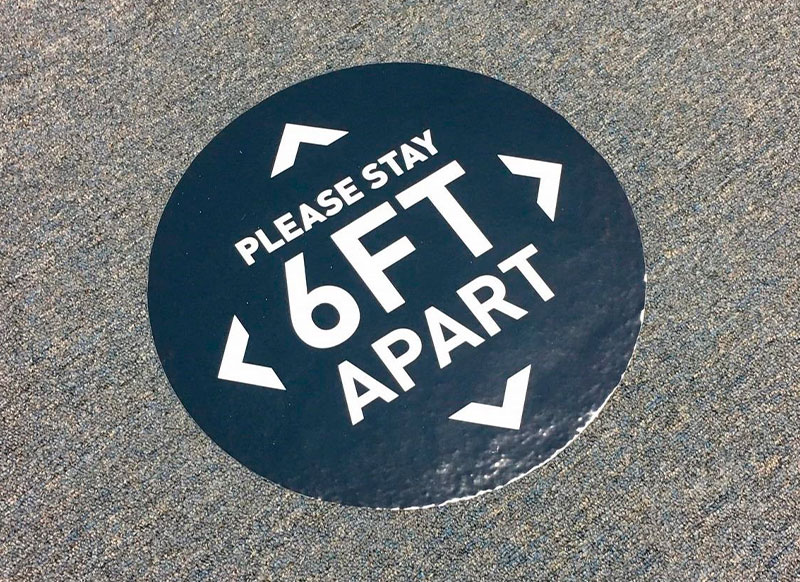 The Results
Graphcom produced, packaged, and shipped this signage to each of the properties on time and within budget. The signage was well-received by the client and continues to help keep their employees, residents, and visitors safe.
As properties are bought and sold, Panco will have a continuous need for these types of signs. In addition to social distancing signs, we continue to produce all interior and exterior sign needs for Panco Management.
"At the beginning of the pandemic, we scrambled to put new protocols and policies in place for the safety of our employees and residents. As part of that process, we had to consider all the social distancing signs for our properties including floor decals, property cones, stanchions, and signs including easels, A-Frames, and WindMasters®, just to name a few. Graphcom provided us with ideas and guidance for these signs and got it all produced and delivered in a timely manner. These signs continue to be invaluable during this time and have helped us to continue running each of our properties safely while maintaining the aesthetics of our luxury communities. We are truly grateful for the relationship that we have with Graphcom and the services they continue to provide for us."
Need Property Signage?
Get in touch with us. Whether you need temporary site signage or monument signs for various communities, rely on Graphcom for a job done right.