An Accessible Community Health Needs Assessment
Presenting Community Health Data in a Reader-Friendly Format
With ten nationally respected hospitals and 280 specialty, urgent, and primary care locations, MedStar Health is the leading healthcare provider in Maryland, Virginia, and Washington, D.C. Every three years, MedStar Health conducts a Community Health Needs Assessment (CHNA) to identify the community's significant health needs and to refresh its priorities and strategies accordingly. The public-facing report reaches MedStar patients, leadership, associates, and the community.
The Challenge
CHNA data is collected through community surveys, individual MedStar Health hospitals, and the health system. However, given the complexity of the content, this data must be analyzed, translated into a concise and compelling narrative, and displayed visually in digital and print format before it is shared with the public.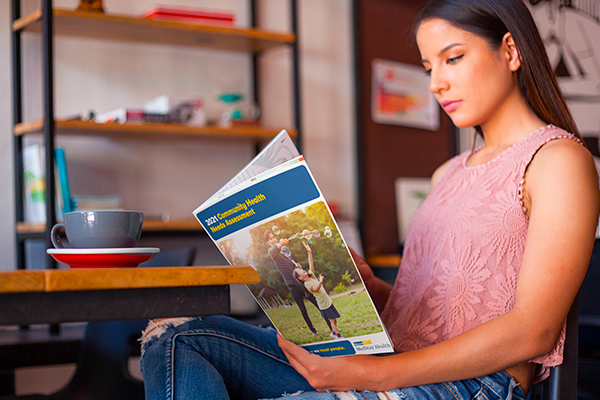 The Solution
With data analysis, editorial, design, and comprehensive marketing support available within one company, Graphcom provided the partnership to help the MedStar Health team execute the 2021 CHNA report from analysis to print.
After project kickoff, the Graphcom team reviewed the 2018 CHNA, taking note of areas that could be improved. We assessed trends, analyzed MedStar Health data and community survey findings, and identified notable trends for the 2021 report—all which we presented in a user-friendly format with clearly narrated data.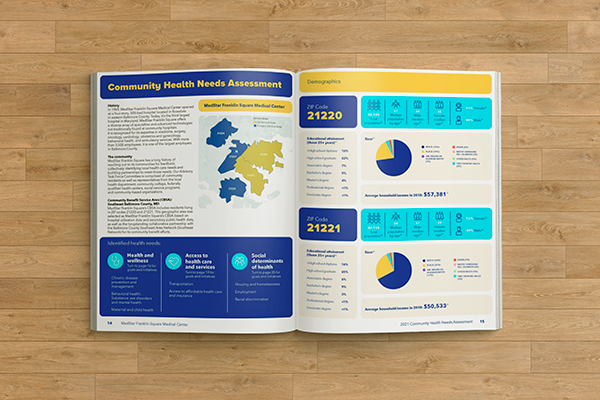 The Results
The sleek, interactive 2021 CHNA uses accessible language and simple-yet-attractive charts, graphs, and other design elements to communicate health needs in MedStar Health's communities, indicating how the organization will prioritize these needs in coming years. Graphcom printed the 100-page assessment in full color with a coated cover and uncoated interior pages.
Need a Partner for Your Next Report?
We're here to help with any stage of your process, from data analysis to publication production.