Mount St. Mary's University Gets a Custom Bus Wrap
Mount St. Mary's University is a private, Catholic liberal arts university in Emmitsburg, Maryland. The University offers more than 70 majors, minors, concentrations, and special programs for traditional undergraduate students and 20 adult undergraduate and graduate level programs. The Mount has a strong athletic program that inspires students to work together through teamwork. One in four students at Mount St. Mary's competes as an athlete on one of their 24 Division I athletic teams.
The Challenge
The Mount partnered with a local charter bus company to find a vehicle to transport athletes to away games. It was branded with the bus company's graphics and had no markings to indicate that it was transporting the Mountaineers. The Mount wanted the bus to be clearly branded to celebrate and inspire their successful athletes, while simultaneously promoting the University.
The Solution
The Mount reached out to Graphcom for guidance about branding their new wheels. Graphcom provided exact schematics for the bus so the Mount's Marketing & Communications team could begin the design. A visit to the bus's location allowed for both teams to assess the vehicle's unique curves and features. This assured that each piece of vinyl would fit perfectly and accurately tell their story.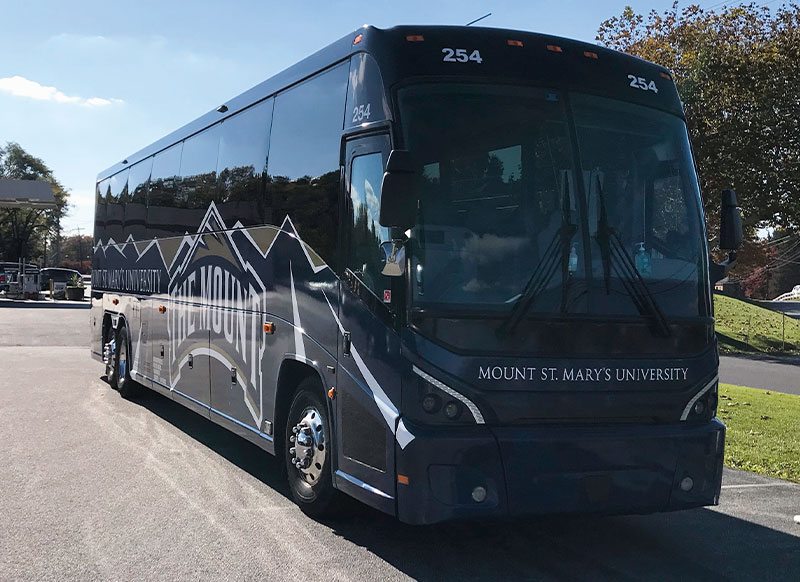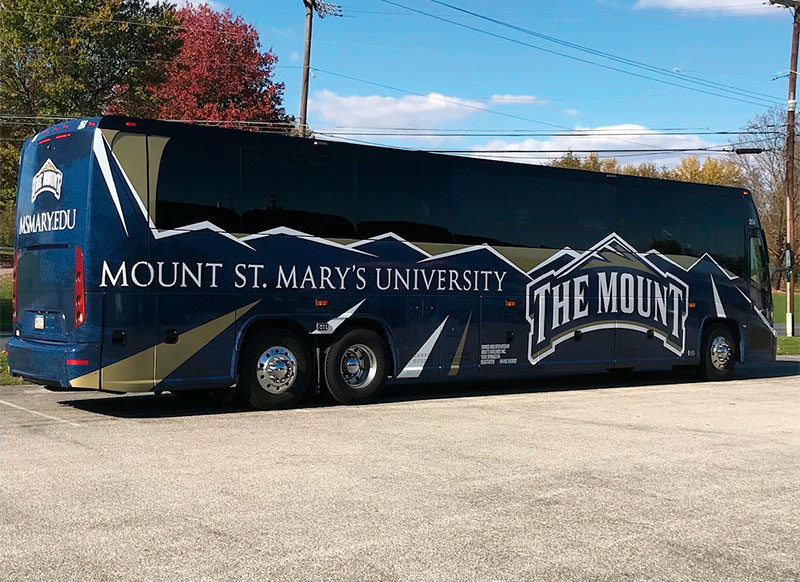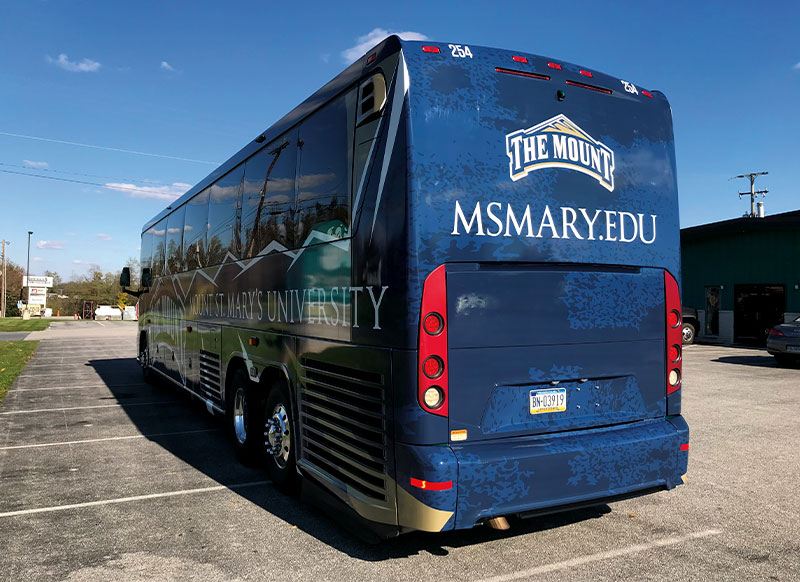 The Results
Graphcom printed and installed over 1,100 square feet of vinyl onto the 53-foot bus. In early November 2021, the bus made its debut as it arrived at the Mount's Knott Athletic Recreation Convocation Complex to a cheering crowd of athletes and staff members. Photos and drone footage were shot of the vehicle arriving and posted to the University's social channels. The bus is branded from front to back with simple yet impactful graphics that clearly let folks know who is on board. The mountain graphic elements were contour-cut to provide an almost 3D effect that allowed the mountain tops to crest at 6 inches above the bus's body into the window space. The result is eye-catching and impactful.
Upcoming collaborative projects include the strategy, creation, and production of more athletics facility graphics, new campus wayfinding signage, signage and graphics for a new welcome center, and a comprehensive 5-year fundraising campaign that will benefit the Mount's athletics department.
"At Mount St. Mary's University, it seems that at least one of our 24 varsity athletic teams is always on the road for competition. Through our partnerships with Wolf's Bus Lines and Graphcom, our three organizations were able to put together a design that ensures everyone on the road knows who is riding on board! We're extremely grateful for Graphcom's amazing work and bringing the project across the finish line!"
Need Help with Your Printed Materials?
Whether you need help with just the printing or from concept to finished project, we can fill in all the gaps.