Einstein Healthcare Network Raises Funds and Cultivates Donors with Direct Mail Campaign
The Office of Development at Einstein Healthcare Network, now part of Jefferson Health, plays a critical role in advancing access to outstanding healthcare. Serving the Greater Philadelphia area, Einstein provides a range of services through four outpatient facilities and a network of more than 700 primary care physicians and specialists. Einstein is also the largest independent academic medical center in the Philadelphia region, training in more than 30 accredited programs. Its flagship hospital, Einstein Medical Center Philadelphia, situated in North Philadelphia, serves one of the most diverse and disadvantaged communities in the U.S.
The Challenge
Einstein's annual fund campaigns were not performing as well as they wanted. They were sent to a high volume of people with a low return and a lack of transparency on what was and wasn't working. Their fundraising partner couldn't offer the targeting and analytics needed to help them grow smarter and outreach more intelligently. Wanting to acquire more funds without additional investment, Einstein turned to Graphcom to generate a higher return and data-driven insight into what motivates their donors to give.
The Solution
Graphcom began with an initial analysis of Einstein's donor base and historical giving. We determined that a large group of people they were mailing to were chronic non-responders. In other words, Einstein continued to mail to them even though they failed to respond and didn't show a high propensity to give in the first place.
Initially, we removed a large portion of their mailing list that provided little to no return. This drastically reduced the cost of printing and postage for each appeal. Next, we took an in-depth look at the messaging and design of all letters. We found the design wasn't impactful. The language didn't target specific audiences with messages catered directly to the letter recipient. For this reason, we began to use variable data to incorporate messaging specific to current donors, lapsed donors, patients, and more.
We wanted more data on what specifically captures Einstein's audience's attention. So, we began to split test every appeal that we wrote, designed, produced, and mailed. Over the years, we've tested many variables, including envelope teasers, page length, signers, and more.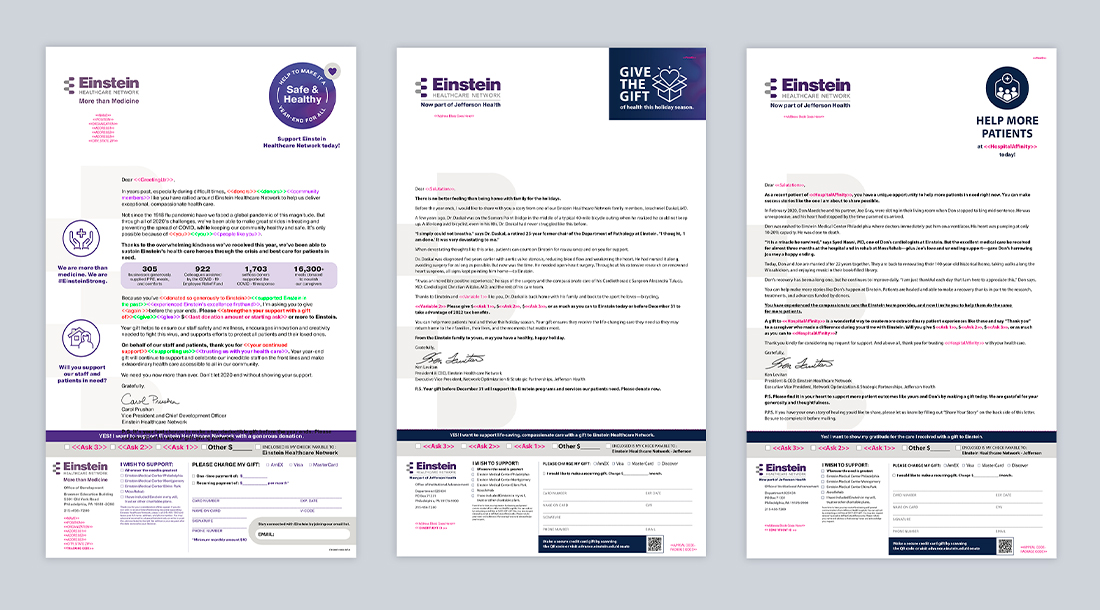 We found that Einstein's donors prefer a 1-page letter vs. a 2-page letter. We learned an envelope teaser or a patient story vs. a physician story had no statistical significance to their donors' decision to give. Through testing, we learned that donors respond to personalized ask strings, and increasing asks doesn't hurt their willingness to give. Between fall 2020 and fall 2021, for example, we saw average gift amounts go from $54 to $66.
In addition, we included a follow-up letter with each appeal, which has proven to drive up to a 30% increase in response rates. How do we know this? We also began to create Tableau dashboards of each appeal's performance. Now Einstein can identify key performance indicators and granular audience data previously not available to them.
The dashboards are easily consumable, branded to Einstein, and interactive, making them extremely helpful when sharing results with leadership. We continue to update these reports annually, so we can see the progress we've made year over year.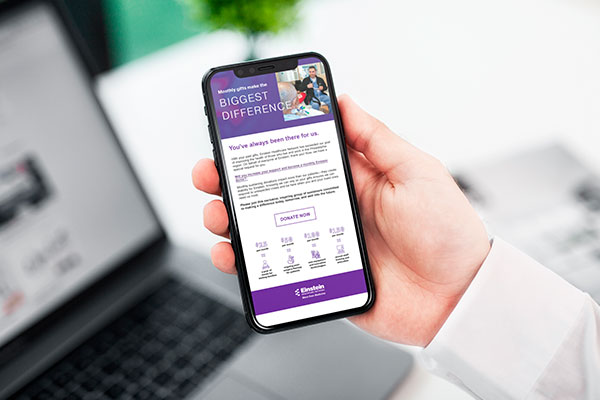 The Results
When we first took over Einstein's annual fund campaigns, they were mailing to roughly 40,000 people. Now, they mail to roughly 4,000 – 7,000 donors and receive essentially the same return. Additionally, their average gift amount has gone from as low as $35 to more than doubling as high as $81.
Einstein saw one of its most successful appeal letters working with Graphcom. For the COVID-19-specific appeal, we averaged a cost-per-dollar reduction (CPDR) of $0.36! We mailed to almost 21,000 people during what would've been the timing of their Doctors' Day 2020 appeal. In more recent (post-COVID-19), standard appeals, we were able to go as low as $0.78 CPDR.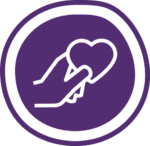 Most successful appeal letter during COVID-19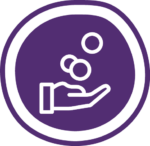 Average gift amounts more than doubled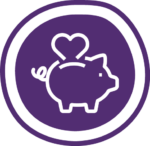 Cost-per-dollar reduction as low as $0.78
What's Next?
We continue to partner with the Office of Development to evolve their annual fund campaigns through data-driven testing. Recently, we helped Einstein communicate to donors their merger with Jefferson Health. We partner with Einstein in other ways too, like their Albert Einstein Society employee giving campaign, and we work with their marketing department on signage.
We have a good thing going with Einstein. We enjoy the partnership and collaboration we've built with them over the years—when they need a partner they can rely on, they call Graphcom.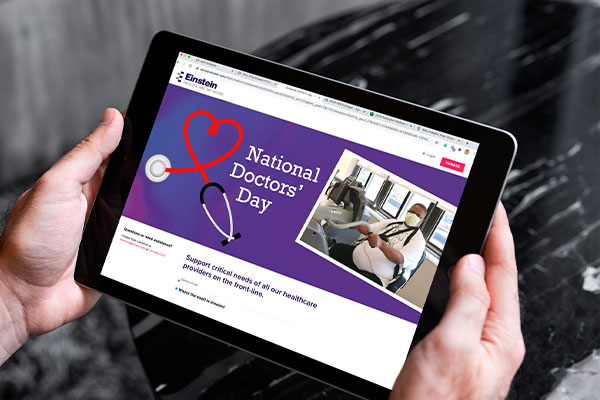 Want Annual Fund Results Like These?
Let's discuss strategies for increasing your average gift amount while reducing the average cost per dollar raised.