A Stunning Booklet Inspires Aviation Support
AOPA Tells Program's Story Through Series of Booklets
The Aircraft Owners and Pilots Association (AOPA) represents the largest aviation community in the world. Representing hundreds of thousands of pilots in 75 countries, AOPA operates out of offices in Frederick, Md., and Washington, D.C.
Whether it is through educating the public about the fun and utility aircraft provides, preparing resources and training material to enhance the skills of pilots everywhere, or advocating for aviation within government agencies, it is AOPA's job to maintain the strength and vitality of the flying community. The organization's mission is to ensure that the sky remains within reach of everyone who dreams of becoming a pilot.
The Challenge
In hopes of gaining supporters for their You Can Fly program, AOPA enlisted Graphcom to produce the first of three booklets to help tell the program's story. The You Can Fly program has been a success, introducing a new generation to aviation, providing better flight training, helping to make flying more affordable, and getting lapsed pilots to fly again. 
Since the program is funded by donations to the AOPA Foundation, AOPA must sustain and expand upon what they've accomplished thus far.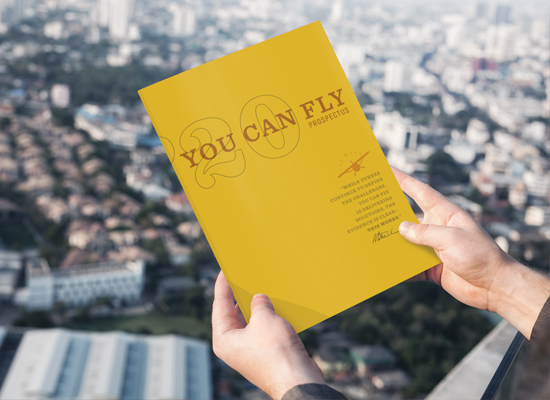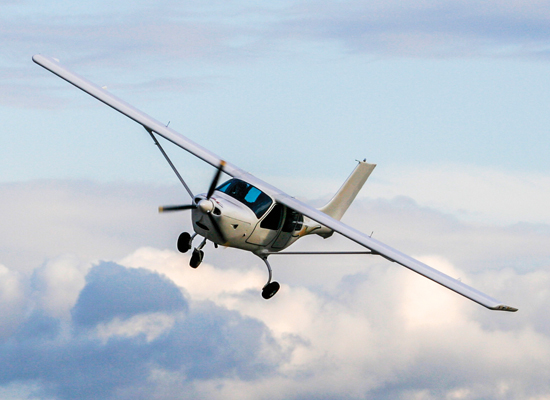 The Solution
The Graphcom team met to discuss the best, most economical way to approach the production of this project. We reviewed the AOPA designer's files and found the art for the yellow airplane and brown copy on the front and back covers was set as "multiply effect" so it would appear darker when printed on the 105# Neenah Stardream fine gold cover.
Additionally, we suggested that all gray type be set as a screen of black (grayscale) instead of a four-color process. To ensure the end result was what the client envisioned, we ordered sample sheets of the cover stock and did an ink draw-down for the customer to review. This process mimics how the ink will appear on the final printed piece.
With the client's approval of the proof and ink draw-downs, details of the process were clearly communicated with the press team.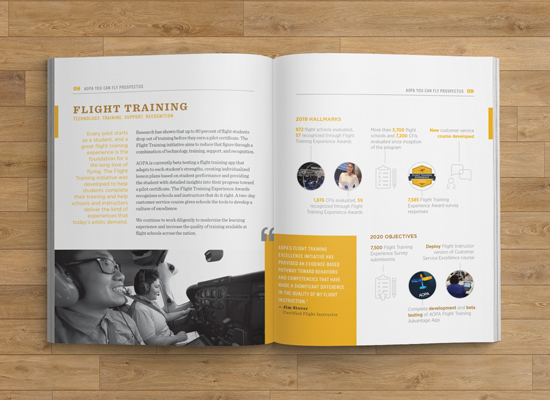 The Results
The end result was a stunning, full-color saddle-stitched 12-page plus cover booklet that uniquely told the You Can Fly story. Interior text pages were printed on 100# Neenah Classic Stipple brilliant white text. The marriage of the stark gold cover and texture of the inside pages was the result of clear communication between the client and the Graphcom project management and production teams.
Graphcom will work with AOPA on the next booklet, which is the second of a series of three. In addition, we'll print a creative multi-pocket folder that will serve as a carrier for the three prospectus booklets and other pertinent information.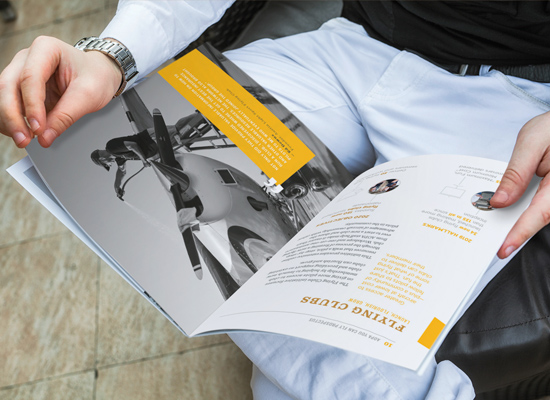 "I think it came out well, and I love the way the print looks on the text stock!"
Need Help with Your Printed Materials?
Whether you need help with just the printing or from concept to finished project, we can fill in all the gaps.