An Automated Stewardship Email Series
AHN Builds Stronger Relations and Retains Donors with Email Marketing
Allegheny Health Network (AHN) represents 14 hospitals and more than 200 specialty and primary care locations, with more than 2,400 physicians in every specialty, 21,000 employees, and 2,000 volunteers. The Office of Development is the sole fundraising entity for AHN, supporting patient-centered care through donor-centered philanthropy. They achieve this by collaborating with healthcare providers, patients, and the community to create a remarkable health experience, freeing people to be their best.
The Challenge
AHN wanted to elevate its stewardship efforts and strategize new ways to reach existing donors. AHN has a large email database, but outside of one-off emails for annual fund appeals and events and a welcome series for new donors, not much correspondence takes place weeks or months after new donors are added to the pipeline.
Additionally, Graphcom creates many different touchpoints for the Office of Development, including standard communications like newsletters and impact reports, but no targeted messaging existed for when a donor gives to a specific fund or affinity area at AHN.
The Office of Development needed something for donors who give to service lines like cardiology, pediatrics, and oncology, for example. Rather than sending recipients to a landing page to give again, emails needed to link to additional content—stories, videos, etc.—that live on various web pages and online publications, many of which Graphcom already created through our partnership.
The Solution
We began by creating a strategic plan that included a timeline for each email (designed to fill at least three months) and a list of topic ideas for a six-email series across six service lines:
Cardiology
Pediatrics
Medicine
AHN Saint Vincent Hospital
AHN General
Oncology
We created a flowchart of all the different emails that new donors receive to show how each works in unison throughout the donor journey. We previously created many of the emails within that flow chart (gift acknowledgment email, a 3-email welcome series, renewal email, etc.).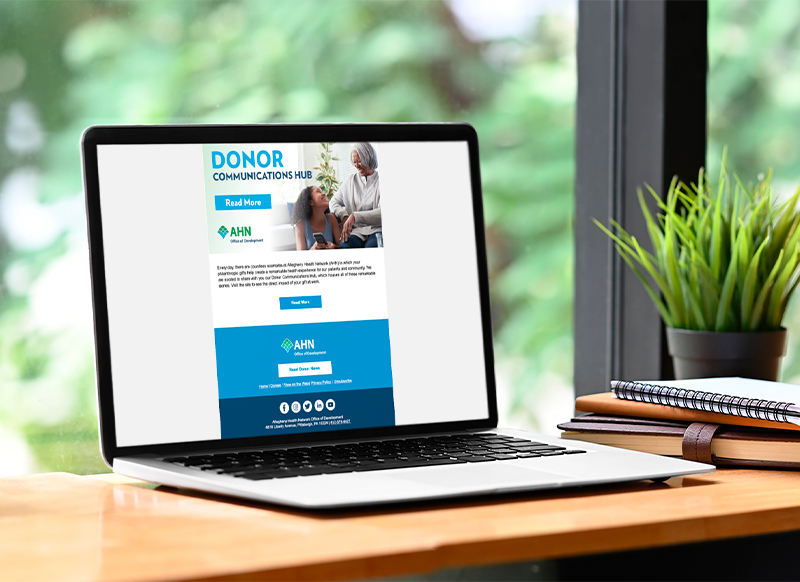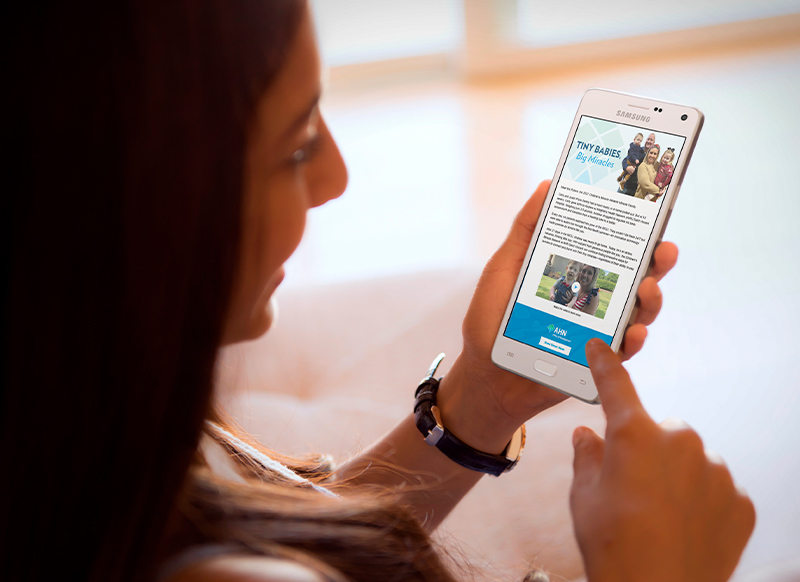 Then, we created 36 fund-specific stewardship emails referenced within the flow chart. The idea is that if a person gives to a specific fund (cancer, for example), they receive a series of six emails with news and updates related to that fund (cancer research, cancer patient stories, etc.). These emails tell stories of impact from donors, patients who benefited from donor support, and new donor-funded treatments or research innovating patient care at AHN.
We wrote the copy and designed and developed each email. Then, we set up automation within Luminate, Blackbaud's online fundraising marketing tool, so once a donor is added to the email list, they automatically receive these communications per the timeline within the strategic plan.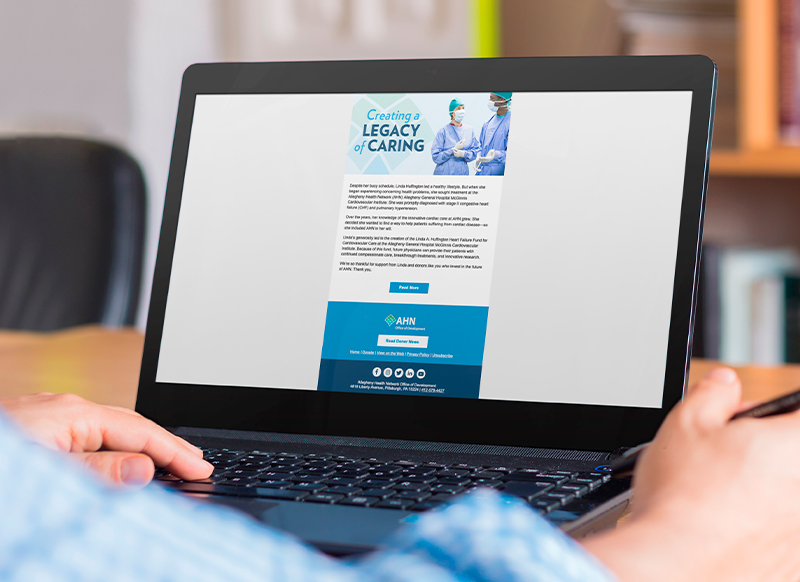 The Results
AHN now sends targeted, inspiring messages based on each donor's affinity featuring content they know they're interested in. The stewardship email series distributes weekly without a hitch. The best part is each email is already approved and automated, so AHN doesn't have to worry about sending manually once a new donor is triggered within Luminate.
We are notified as emails deploy, track the progress, and update content as needed for timeliness and relevancy. Ultimately, AHN now has another way to steward donors, keeping them abreast of AHN news and AHN top of mind when they decide to give again. Together, we helped engage AHN donors through consistent, thoughtful, impactful outreach.
Since the series is automated, emails are sent almost daily. We continue to engage donors based on their unique philanthropic interests in other ways, and now we are working on a stewardship email series for two additional affinity areas: nursing and women's health.
Graphcom remains one of the Office of Development's marketing agencies of choice. AHN relies on us for copywriting and design of quarterly newsletters, monthly and specialty e-newsletters, marketing collateral, impact reports, email campaigns, event marketing materials, creation and maintenance of a Donor Communications Hub, fundraising marketing and strategy, and more. We write, design, print, and mail their annual fund mailings as well.
Want to Reach More Donors by Email?
Let's discuss content, design, development, and automation for your next stewardship email series.