An Award-Winning Annual Report
Pennsylvania Housing Finance Agency Highlights a Year of Accomplishments
The Pennsylvania Housing Finance Agency (PHFA) is a state-affiliated, mission-driven agency that provides affordable housing products to Pennsylvania residents. PHFA administers funds on behalf of the state, federal government, and tax-related programs. The agency provides affordable homeownership and rental options for older adults, low- and moderate-income families, and those with special housing needs.
Through its managed mortgage programs, investments in multi-family housing developments, and funding provided for community development projects, PHFA is a vital part of economic development across the state. Graphcom has worked with PHFA for many years, including on its annual report, which has received many awards for its effective graphic design.
The Challenge
As the foremost publication of the agency, PHFA's award-winning annual report must tell the story of what was accomplished over the year, highlight some of the clients they've helped, and provide a snapshot of the financials, all while maintaining the client's brand and telling a compelling story. This report must differ from designs of previous years and appeal to a wide audience that ranges from employees, stakeholders, clients, and government officials.
The Solution
Graphcom met with PHFA's director of communications for a collaborative, energetic exchange of ideas. We learned the history behind the agency, we heard success stories, and as a result, we were able to feel the emotion behind each one. We understood the theme, "We Create Successful Renters, Homebuyers, and Homeowners," and discussed the client's vision. Armed with this knowledge, the Graphcom team researched and strategized unique and creative ways to showcase PHFA's 2019 story.
In addition, Graphcom's creative team collaborated with PHFA's photographer so that images captured effectively told the story and complemented the design. Graphcom created three design concepts (calm, creative, and courageous) and presented each to the agency's president. When the concept was chosen, Graphcom began the design process, collaborating with PHFA's director of communications each step along the way.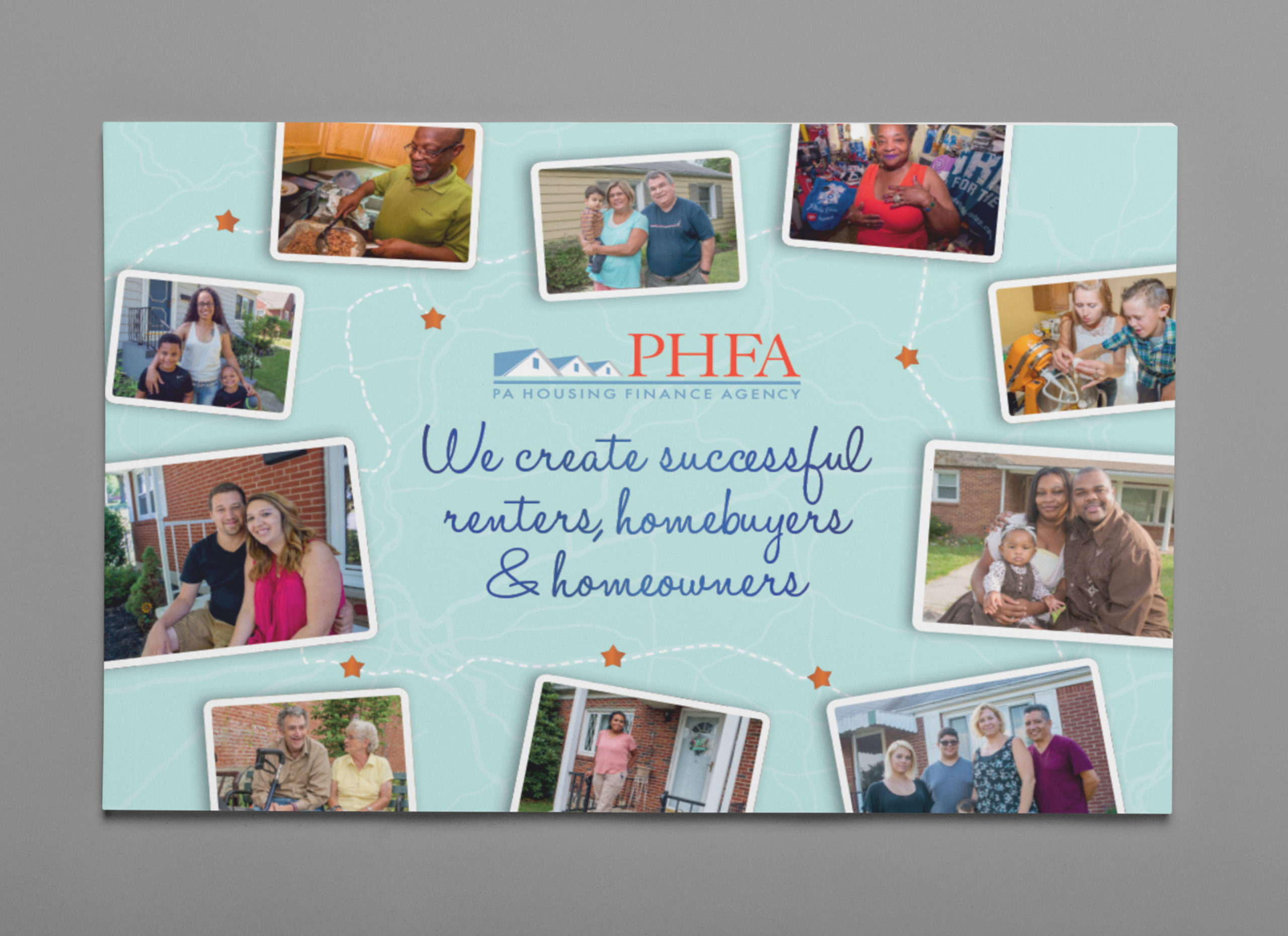 The Results
The end result was a beautiful, full-color, perfect-bound 34-page booklet that uniquely told the PHFA story. The cover was adorned with foil stars that creatively lead a visual path to compelling images, giving a snapshot of what was inside and leaving the reader wanting to learn more. Content, imagery, and infographics that aligned with the theme "We Create Successful Renters, Homebuyers, and Homeowners" highlighted the agency's 2019 achievements and the lives they enriched. The report was sent to over 2,500 of PHFA's audience in a matching envelope with a letter thanking the recipients for their support.
Graphcom is looking into options for a different delivery of the 2020 annual report and looks forward to the official kick-off happening midway through the year for yet another collaborative exchange of ideas. We will continue to tell the PHFA story through other various projects as needed.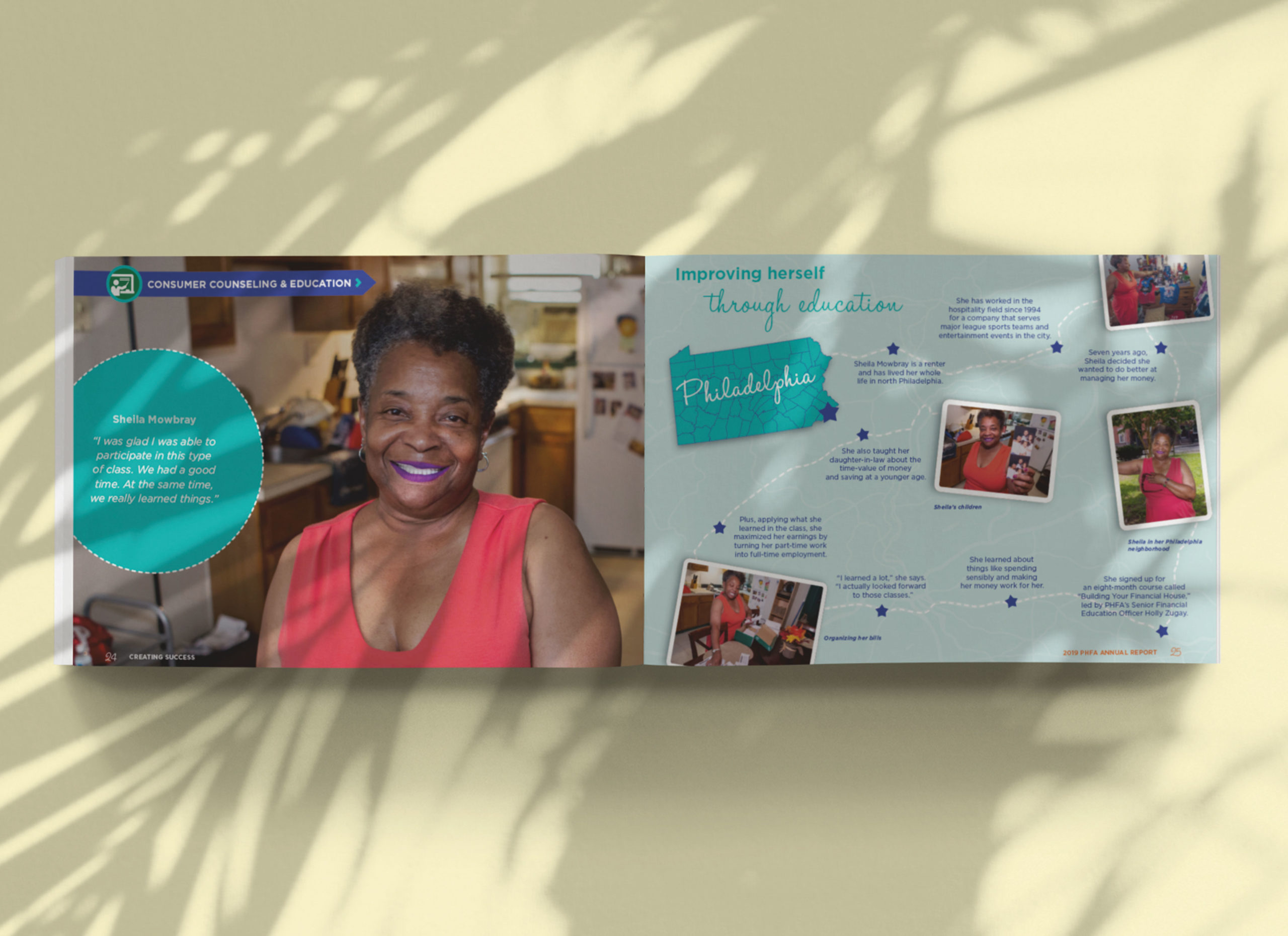 "This year, I think PHFA produced its best annual report ever, and that was due in large part to the creative work led by Graphcom. The design is highly visual with lots of white space. The text in the report is presented in snippets, not long, tedious columns of heavy wordage. Plus plenty of icons and photos make the pages inviting to view. The report welcomes readers in and then does a wonderful job of holding their interest.
Graphcom was so easy to work with and always had solutions when we bumped up against design challenges. We are a repeat customer (for a decade now), and we highly recommend them. We suggest their marketing slogan should be: terrific design, terrific people!"
Ready to Rock Your Annual Report?
From creative design to printing excellence, we'll make this year's annual report your best one yet.