An Impact Statement Booklet for Donors
Mount St. Mary's University Partners with Graphcom to Encourage Athletics Donations
Mount St. Mary's University is a private, liberal arts Catholic university in Emmitsburg, Maryland. The university offers more than 70 majors, minors, concentrations, and special programs for traditional undergraduate students and 20 adult undergraduate and graduate-level programs. The Mount has a strong athletic program that inspires teamwork among students. One out of every four students at Mount St. Mary's competes as an athlete on one of their 24 Division I athletic teams.
The Challenge
Mount St. Mary's partnered with Graphcom to provide support for their 5-year, $50 million "Our Mission, Our Moment, Our Mount" campaign. Funds raised through the campaign will benefit the Mount's newly-formed school of health professions, athletics, and STEM programs. The campaign has a modern feel, while holding true to the Mount's traditions and Catholic identification.
In order to gain needed funding for the athletics program, the Mount team embarked on a series of asks and meetings to communicate the need to potential major donors. They needed an impactful, eye-catching leave-behind piece to tell their story with striking visuals and short, concise content.
The Solution
The Mount reached out to Graphcom for guidance in designing an Athletics impact statement booklet that would adhere to the Mount's branding and traditions while telling their story with a fresh, modern approach. Graphcom met with the advancement and athletics teams to gather information and brainstorm ideas. Armed with this knowledge, Graphcom designed a series of comps that highlighted athletic achievements while providing a snapshot of what generous donations could accomplish.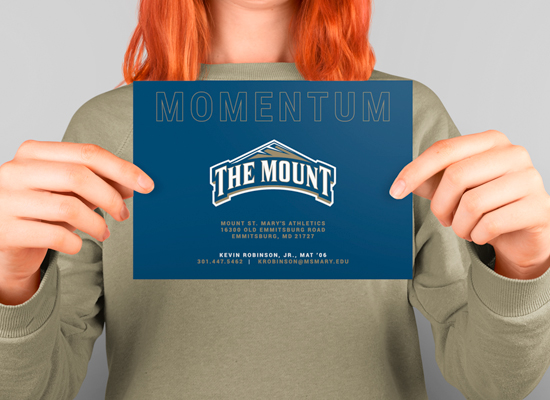 The Results
Graphcom wrote, designed, and printed a stunning 16-page booklet on a gloss cover with four color process, metallic ink, dull varnish, and gloss aqueous coating. The cover is printed with the Mount's branded blue and the M of the logo is die-cut to reveal inspirational images on the adjacent page. The booklet encourages the user to open it and explore what's inside.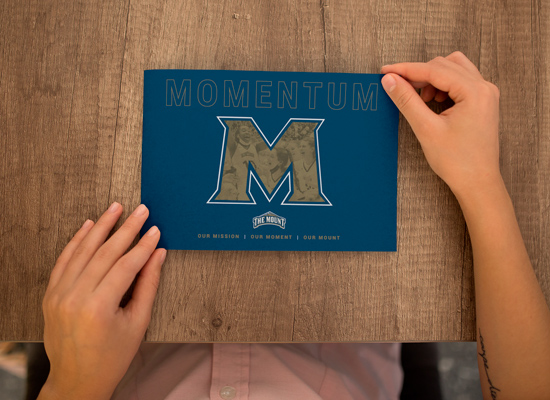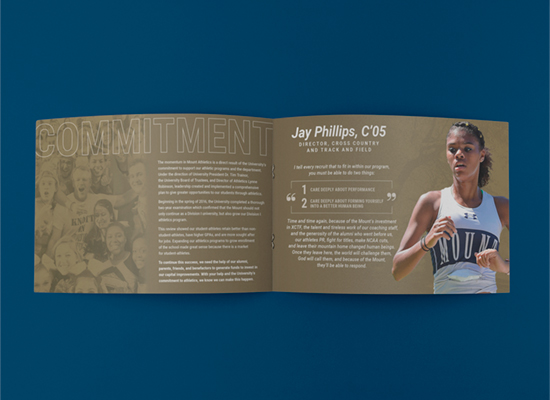 We've enjoyed a long partnership with the Mount, and we look forward to working with them on future campaigns. Upcoming projects include the strategy, creation, and production of a video and microsite, then comprehensive direct mail outreach to additional potential supporters.
"Looks awesome! I really like the look of the impact statement and I appreciate you incorporating 'Momentum' onto the title page. I also like the incorporation of the quotes and the way it pops off of the page. Those quotes from our student-athletes and coaches bring a lot of life to what has been accomplished over the past five years in athletics. Appreciate all the hard work going into this project. Thank you for all the help."
Looking for help on your next fundraising campaign?
From direct mail appeals to sleek websites and videos, we've got what it takes to help you raise more funds.