An Opportunity for Corporate Partnerships
Allegheny Health Network Makes It Easy for Corporate Donors to Give
Allegheny Health Network (AHN) represents 14 hospitals and more than 200 specialty and primary care locations, with more than 2,400 physicians in every specialty, 21,000 employees, and 2,000 volunteers. The Office of Development is the sole fundraising entity for AHN, supporting patient-centered care through donor-centered philanthropy. They achieve this by collaborating with healthcare providers, patients, and the community to create a remarkable health experience, freeing people to be their best.
The Challenge
The Office of Development had a critical need for a corporate partnership guide that highlighted unique giving opportunities. Each option needed to appeal to corporate donors and align with AHN's mission to tackle the most significant health issues in Western Pennsylvania. The goal was to produce an end product that showcased numerous corporate giving opportunities and the benefits of partnering with AHN.
AHN felt their current fundraising materials had too much information and imagery unrelated to corporate partners. They wanted to revamp another piece Graphcom created but target it solely to prospective corporate partners. The client requested a printed and digital version of the booklet for development officers to provide more information to prospects after meetings.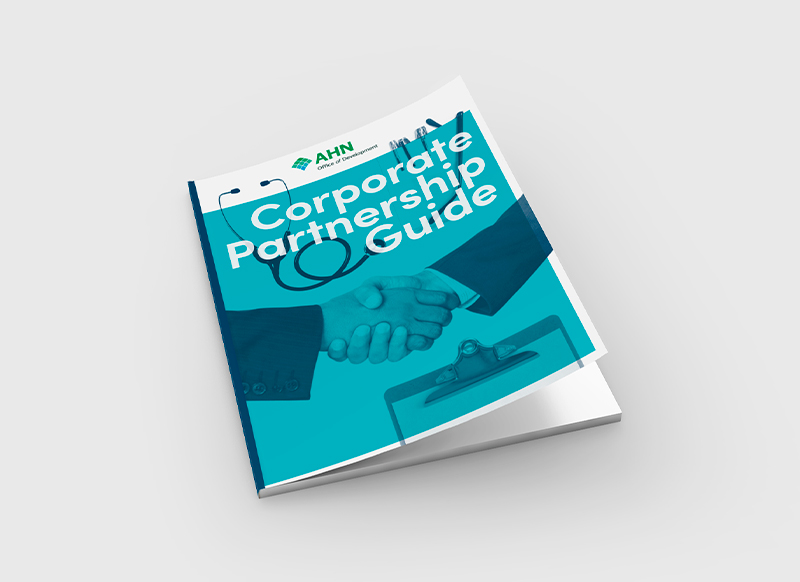 The Solution
Graphcom's goal was to showcase AHN corporate partnership opportunities in a way that easily aligns with a company's goals, needs, and philanthropic interests. To achieve this, we wrote, designed, and printed the corporate partnership guide for AHN. Our editorial team created content that spoke directly to corporate donor interests and included testimonials from AHN partners who played an important role in expanding AHN's resources and services.
Our design team created a visual layout that aligned with the AHN brand and other Office of Development materials previously created. Rather than showcasing patients, AHN physicians, and community members, we included photos of real donors and businesses in active partnership with AHN. To fulfill AHN's need for an online version, we also created a digital edition that could be shared online easily.
Ultimately, Graphcom produced a beautiful saddle-stitched piece that perfectly showcases the impact of corporate giving at AHN, patient and donor success stories, ways to give, and more. The printed and online pieces provide corporate partnership opportunities ranging from programmatic support and event sponsorships to cause marketing and employee engagement. Companies are invited to create a custom partnership with AHN that best meets their needs and company goals.
The Results
Philanthropy plays an essential role in AHN's ability to provide the right care at the right place and time. The corporate partnership guide makes a case for supporting AHN's advancements in treatments, cutting-edge technology and facilities, recruitment of outstanding talent, and more. Together, we made it easier for corporate partners to understand why and how they could do so with this guide.
Graphcom continues to partner with AHN. The Office of Development relies on us for the copywriting and design of quarterly newsletters, monthly and specialty e-newsletters, impact reports, email campaigns, event marketing materials, and more. Almost all of these communications can be found on AHN's
Donor Communications Hub
, which we also built to house all content for donor stewardship. We write, design, print, and mail their annual fund mailings. We are honored to support a network so committed to building the future of healthcare in their communities.
Want to Wow Corporate Donors?
We can create the right communications to help you raise more money and attract more donors.