Appeal Letters for a New Cancer Center
Frederick Memorial Hospital Raises Nearly $3 for Every $1 Spent on Community Appeal Letter
Frederick Memorial Hospital (FMH), now Frederick Health, maintains a focus on delivering quality care. FMH reached out to Graphcom for help to acquire new donors and cultivate existing ones by sending a fundraising appeal letter to prospects throughout Frederick County. The appeal was designed to raise money to build a new cancer center. Based on our recommendations, the letters were sent to Frederick County residents with an annual household income of $80,000 or more, regardless of whether they had an existing relationship (donor or volunteer) with FMH.
The Challenge
Although the hospital had raised funds through appeal letters before, the results were lackluster. Some mailings had cost more money than they had made. Letters were created in a newsletter style, in which readers were required to open several folds to get the entire message. They were printed with only two colors, which gave the pieces an outdated look.
Messaging was staff-centric, without enough emphasis on what the benefit to the donor might be. Acquisition efforts were launched only once per year and were limited to a different quadrant of Frederick County each year. For this new appeal, the client defined "success" as acquiring any new donors, provided that the funds raised were at least equal to the cost of launching the campaign.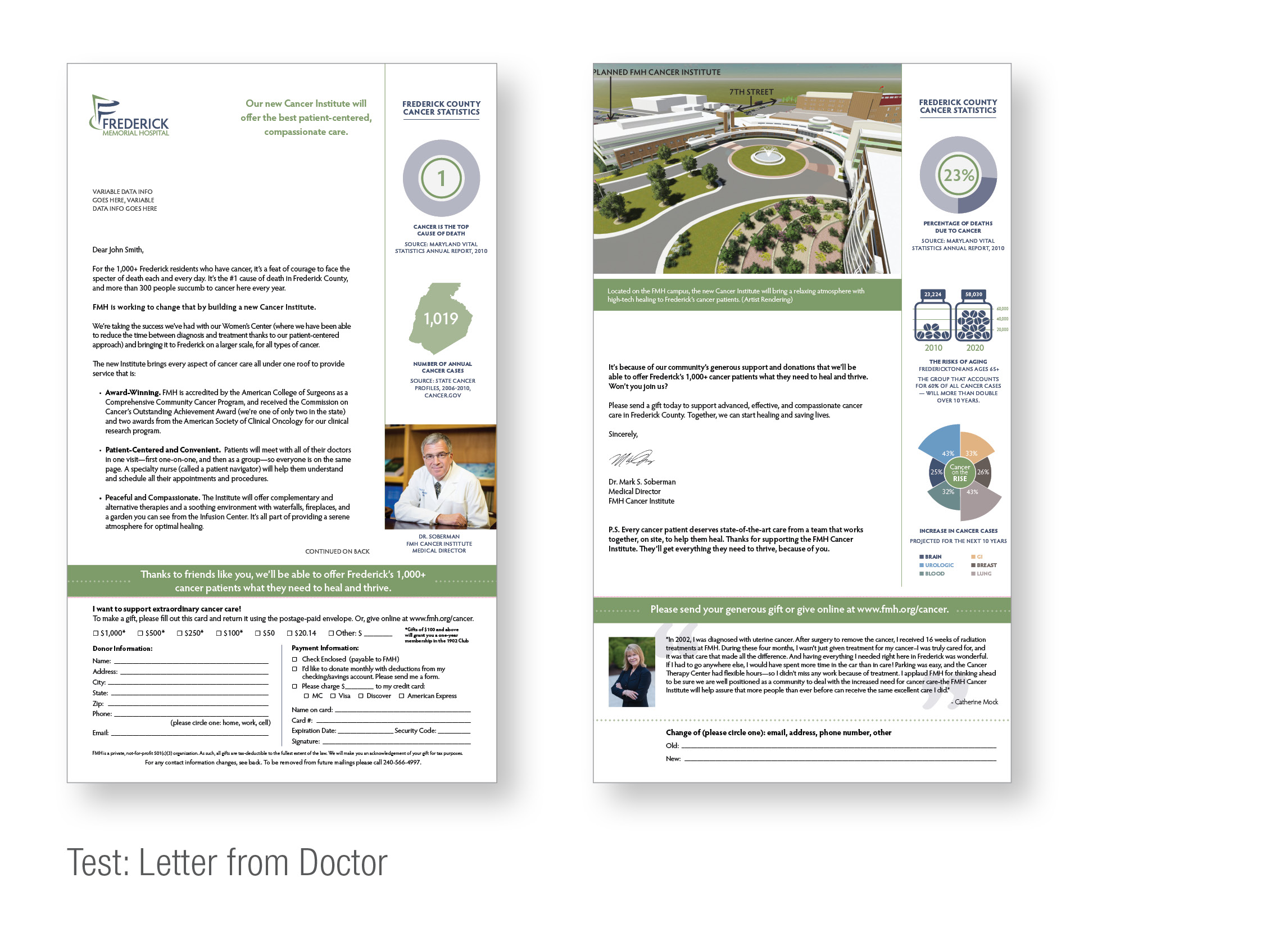 The Solution
Our goals were to increase awareness of the cancer center initiative throughout the community, broaden FMH's donor base, and (of course) to raise funds. We determined that because these letters would be sent to the entire community—not just previous patients and their families—it was important to appeal not only to people's emotions but also to their sense of logic. In other words, we needed to make a strong case for improving cancer care in the Frederick community, both with storytelling and with hard data.
To that end, a powerful narrative was combined with strong, impactful images to evoke emotion. At the same time, we researched cancer data in the community and included infographics for quick "at a glance" facts.
In addition to writing the letters, Graphcom also provided design, printing, and mailing services. We printed all versions of letters and envelopes using variable data to personalize each mailing based on whether the recipient is a volunteer or donor. This allowed us to track each version of the letter and envelope, and determine which mailing was more effective. Although the hospital had raised funds through appeal letters before, they had never conducted any testing to discover what techniques would work best for their audience. We tested a couple of variables with this mailing, including:
2 envelopes: Blank vs. teaser
4 letters: To donor vs. non-donor, each group divided to receive a letter from doctor vs. patient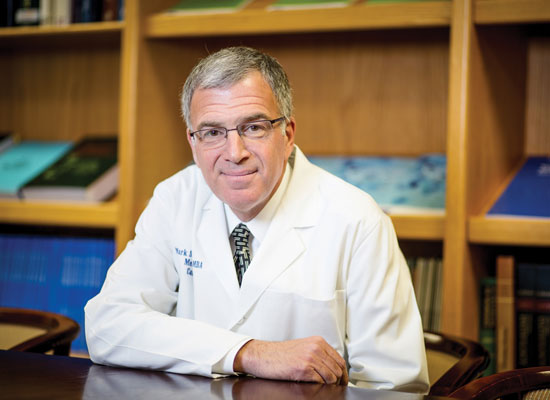 The Results
For every dollar FMH spent to produce these donor appeal letters, they earned $2.95 in return. We tested an envelope with a standard return address from the hospital against an envelope with a teaser. The standard envelope beat the fancy one by 29%!
One version of the letter was written by Dr. Soberman (pictured at left), who heads the cancer center. The other version of the letter came from a female cancer survivor and nurse with a family. Dr. Soberman's letter enticed 46% more donors to give.
total dollars were raised
total gifts were received
"Once we get [these new donors] in the habit of regular giving, we have a really good shot at making them lifetime donors. That's really big. Over the course of 10, 15, or 20 years or more, some of these lifetime givers could end up making a provision in their estate plan for FMH. That's the ultimate gift! I probably won't be around then. However, someone may look back and say, 'Thank God for those development bozos and their work back in 2014/15!'"
Get Your Next Appeal Off the Ground
Graphcom can help you take your fundraising appeals to the next level.