Boost Member Engagement with Analytics
How to Make Data Analytics a Part of Your Next Campaign
What Is Predictive Modeling?
Predictive modeling is a highly-effective statistical method payers can use to identify members most likely to respond to outreach efforts and take action, thereby generating and maintaining member engagement. This methodology is effective across a range of initiatives, from renewing membership to completing an annual wellness visit.
A major advantage of using analytics for marketing purposes within a healthcare organization is the volume of data available. These models can analyze this data and uncover previously-unknown relationships and significant variables that may have been overlooked otherwise.
Members are more likely to respond to content that applies to them and their specific situation.
Targeting Members & Increasing Engagement
This approach can be applied to health insurance payers' outreach campaigns. By building and deploying an analytics model for marketing purposes, they can identify which members to target, using their likelihood to complete an appointment to determine outreach priority.
For example, Graphcom's client used this data-driven strategic approach to target and outreach to 55% fewer members while yielding a 75% higher annual wellness appointment completion rate over the previous year.
In the past, member engagement strategies were less focused on working directly with members and more focused on generating healthcare interventions. That's why marketing materials weren't necessarily created with each individual member's preferences in mind.
Now, members are very involved in all parts of their healthcare journey and expect their payers and providers to help facilitate their involvement.
Analytics can be used to determine the style and marketing channel where materials are most successful, and how the success of those materials varies by group. This gives organizations the power to meet member expectations. This ability to deliver relevant, personalized materials is highly valuable in maintaining engagement beyond the intervention because members are likely to respond to content that applies to them and their specific situation.
For instance, payers and providers can generate outreach material by conditions or healthcare topics relevant to various age groups and gender. These materials can be delivered using a communication channel preferred by each population. This strategic approach allows organizations to allocate resources in an intelligent way that will, ultimately, reduce the costs of sending materials while increasing response or action.
Improving Data Collection
Predictive modeling can also drive data collection processes to become more strategic. The issue many organizations face when implementing marketing analytics is a lack of good data. Though an absence of viable data poses a problem, it provides an opportunity for organizations to standardize and improve their data collection processes, with the end goal of having a complete database that can be used to develop a robust model.
For organizations already using predictive models, this may mean collecting additional data points to improve the analytics power of the model. They can define the type of data that needs to be collected or added to existing data in order to strategically solve the problem at hand. This includes working with a number of data collection and management resources.
Who Is Graphcom?
Graphcom is an unconventional marketing firm: equal parts creative studio and production powerhouse. We help tell stories that change markets, minds, and behaviors—and we do it all in-house, from strategy and branding, to content, design, printing, distribution, and marketing analytics.
We work with many healthcare payers to improve member engagement, and we have the appropriate HIPAA/HITECH-compliance measures in place that ensure data security.
We use the Cross Industry Standards for Data Mining (CRISP-DM) methodology when approaching all analytics projects.
Members are more likely to respond to content that applies to them and their specific situation.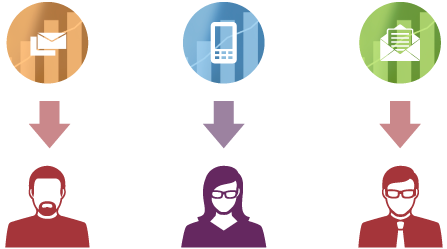 CRISP-DM Includes
Business Understanding—We make it a point to understand our clients' needs and goals. We help formulate a plan that is not only strategic, but also measurable.   //   Data Understanding—We work with our clients to make sure data is relevant to their goals, and help identify alternate sources, if needed.  //   Data Preparation—We use key performance indicators identified during the business understanding phase to adjust data and gain as much insight as possible from the information we have available.   //   Modeling—We use our experience with machine learning to select and build a model that is relevant to our clients' data and goals.   //   Evaluation—We assess the model to ensure it can be deployed in the future and can give clients measurable results.   //   Deployment—Once we implement a model, we collaborate with our clients to automate for efficiency, track its success, and make adjustments as needed.
Does Graphcom Sound Like a Good Fit for Your Organization?
Let's talk. Together, we'll target more members and increase engagement.