Branded Signage for a Custom Office Space
Orases Cements Mission & Values With Branded Signage
Based in Frederick, Md., Orases develops custom software solutions for clients. In addition to software development, Orases' services include mobile app development, UI/UX development and design, infrastructure, project management, and more.
The Challenge
Orases lives by its D.R.I.V.E. mantra: demonstrate thoughtful communication, rise to the occasion, integrity all the time, value to clients, and excel at their craft. After expanding to a newer, larger renovated space, Orases needed to capture these values and vision in a larger-than-life way that would immediately showcase who they are to visiting clients, encourage employees, and boost team morale. That's when Graphcom came in.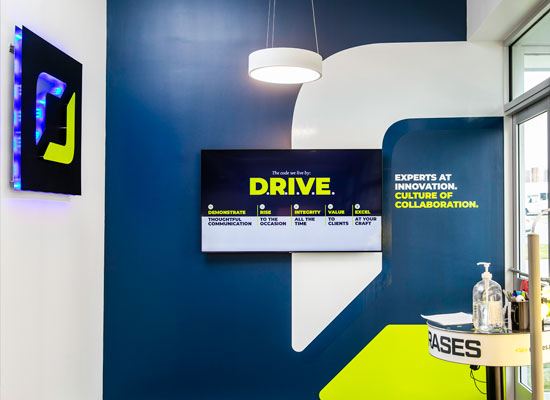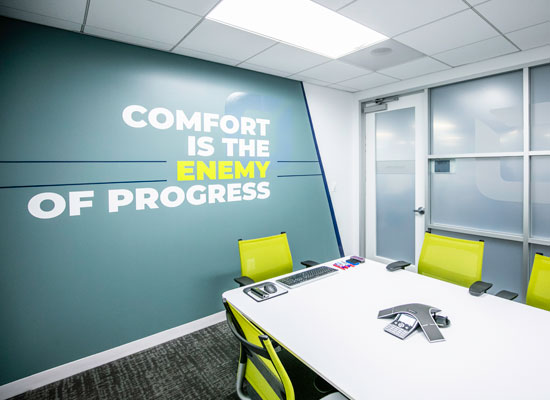 The Solution
We partnered with Orases to help execute a vibrant vision for the space. This included highlighting the company's core beliefs and sharing inspirational quotes to motivate the team and capture the spirit of Orases. Our role was producing and installing interior office graphics.
We worked closely with Orases to perform site visits, measure, and walk through the space, so we could understand their expectations. Our team shared sample materials and printed samples with Orases in the planning phase of the project, so we were on the same page with their expectations from the beginning. Our production team reviewed the customer-supplied files closely with Orases' designers and made adjustments as needed to ensure the best outcome during the fabrication and installation process.
We printed and installed vinyl wall graphics, interior frosted glass vinyl, and fabricated custom acrylic frames to display the client's logos and other decorative images. A large portion of the project also involved painting many of the wall surfaces using both standard and custom dry erase paints in some areas.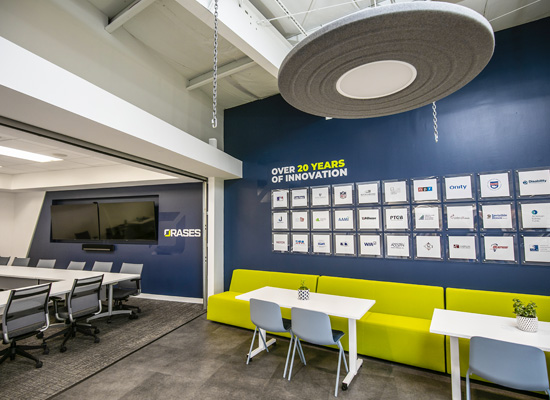 The Results
Overall, these updates have made Orases' space more visually appealing and dynamic for visitors. The changes have also enhanced employee morale.
The best part? We were able to do so with a tight timeframe and within budget. Our collaboration allowed the Orases team to focus on other revenue-generating priorities and made the entire process easy and efficient. The client was pleased with the overall process and final results, and we look forward to opportunities to work with Orases in the future.
"The project of customizing our office was a daunting task. We not only needed graphics on the walls and windows but also painting—all during a pandemic and with a tight timeframe. After talking to Graphcom and other companies, it was a no-brainer to go with Graphcom.
They were able to do it all in-house and get it done within our crazy deadline. We are thrilled with not just the results but also the communication, attention to detail, and overall experience."
Need Help Revamping Your Space?
Our team can help your brand identity shine—throughout your space and beyond.