Cooperative Environmental Graphics
Common Market Co-Op Celebrates Second Location with Environmental Graphics
The Common Market Co-Op is a member-owned cooperative serving the Frederick, Md., area with high-quality natural foods, health products, and household supplies. The Common Market seeks to responsibly serve the community through its products and offer a path to a sustainable, healthful future through its structure, policies, practices, and shared values. With steady growth in customers and food and service offerings, Common Market expanded its Buckeystown Pike location in Frederick with a second market on West 7th Street in the summer of 2020.
The Challenge
When Common Market was set to open its second location, they prioritized working with local vendors and contractors. They turned to Graphcom to help with interior signage needs. The new location included 33,000 square feet of total shopping space with natural, local, and sustainable groceries, home products, gifts, and a restaurant café. The challenge was starting from the beginning and designing and installing all signage in time for opening.
Cafe Wall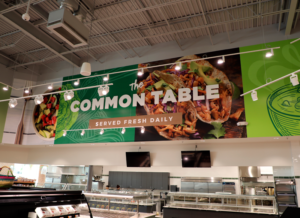 Bulk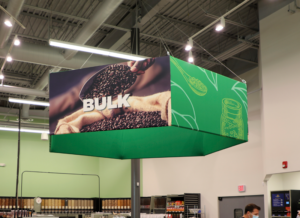 Aisle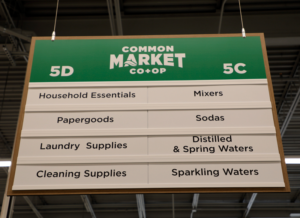 Pet Care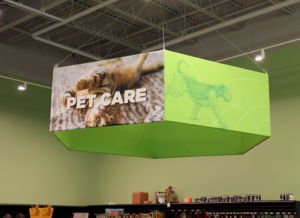 Meat & Seafood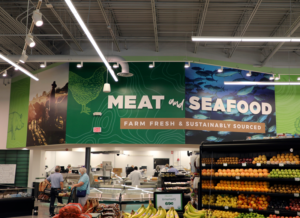 Dairy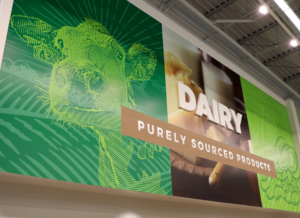 Thank You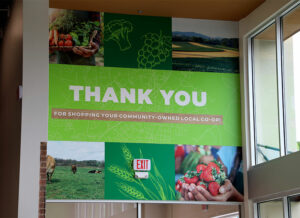 The Solution
Creating and coordinating environmental graphics for the entire space was no easy feat, so Graphcom broke down all signage deliverables into two phases. Time was of the essence, as there was a firm opening date in September. Common Market needed to create a unique new environment within
this established timeline.
From on-site visits to measure and understand the customer experience as they navigate the space to internal meetings to discuss the client's brand and creative vision, Graphcom set out to develop a signage system that was visually impactful, functional, and cost-efficient.
The process included mood boards with design direction options, which set the overall tone of the project and highlighted colors, materials, and unique applications available. This was the perfect place to confirm the look, feel, and materials before moving into the design and production of the signs.
Next, Graphcom began designing and installing the individual signs:
• Entrance and exit vestibule (wall cling)
• Meat and seafood counter (wall sign)
• Dairy counter (wall sign)
• Café/kitchen (wall sign)
• Bulk items (hanging sign)
• Pet care (hanging sign)
• Aisles (25 hanging signs)
• Checkout area (6 signs for checkout pole/lights and 1 for express lane)
• 7 Principles
The Graphcom creative and signage teams worked passionately to create and prepare files, apply client feedback, print the graphics, and complete installation in time for the mid-September opening.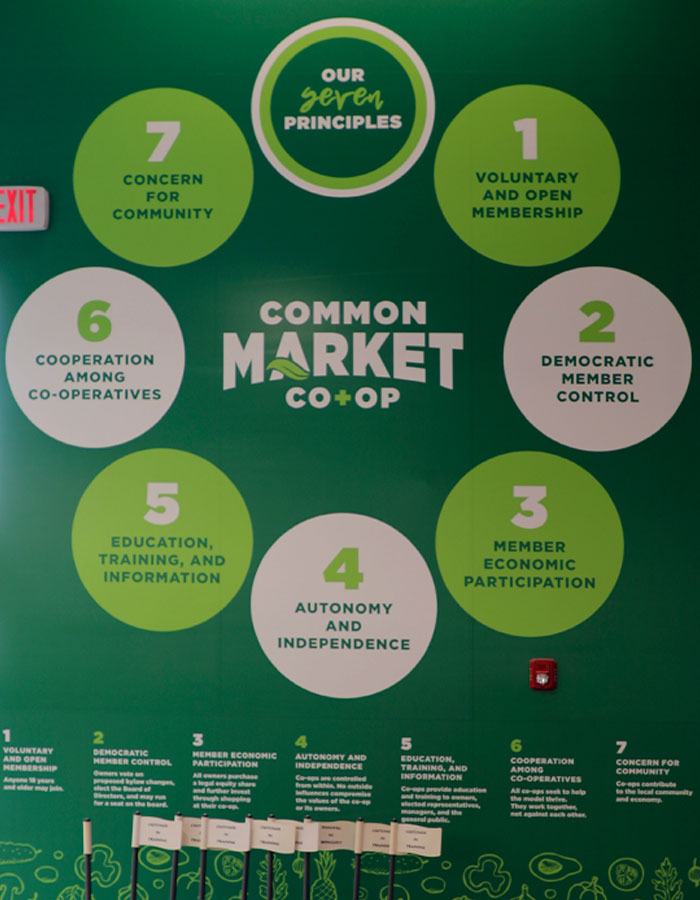 The Results
At a special ribbon-cutting, Common Market welcomed the second location's first customers into a bigger, bolder new space. The signage was colorful and engaging, carried Common Market's branding for consistency across the two locations, and communicated a focus on local—local products grown or produced, local farmers and businesses, local tags on signage and shelving, and making the local economy stronger.
The results were a beautifully branded building and first-rate customer experience, but the impact of the space went beyond that. The second location has supported a local food system for the community and local farmers and food producers, created many new jobs, and served more co-op owners and customers throughout Frederick. Graphcom was honored to play a part in communicating Common Market's vision and brand and supporting and collaborating with local businesses and the local community.
Graphcom continues to maintain a strong relationship with Common Market and discuss new ideas for partnership. Additionally, Graphcom supports Common Market in secondary ways, including helping to promote their efforts through their partnership with another client, LiveWell Frederick.
Want to Make a Statement With Signage?
Let's talk. Whether you need indoor or outdoor signage, banners, or anything in between, Graphcom creates stunning signs to match your brand.