Customize Mailings with Variable Data Printing
Let's Get Personal (with Variable Data)
What Is Variable Data Printing?
Variable data printing is a fancy term for the production of personalized printed content. With this form of intelligent, on-demand printing, elements can be changed from one printed piece to the next for personalized messaging tailored to individuals and their demographics. Using a database or external file of information, mass customization of background images, colors, artwork, body copy, and promotional offers or appeals is not only possible but easy and yields better results.
Customization—It's All Psychological
Mailing recipients value a feeling of connection to the organizations they work with, give to, and buy from. Getting a recipient to feel like they know an organization personally requires data-driven customization. Targeted content creates a sense of one-to-one messaging as if speaking to a friend, which leads to increased response rates and higher ROI.
It all stems back to neuroscience. Studies show there is a unique activation in the brain when a person sees or hears their own name. This activation is associated with thought patterns that serve a person's core identity and personality. The excitement and pleasure that results from being addressed by one's own name, or personalized information, puts the recipient in the mood to take action.
How Does Variable Data Printing Work?
Working with an experienced marketing partner, organizations can both create and produce customized printed content. Choosing what to create and why is the first step. From billing statements to promotional booklets to newsletters and fundraising appeal letters, it all depends on the company's goals, their audience's preferences, and the intended action. Variable data can be customized for demographics, salutations, or to test one message against another to see which performs best with different audiences.
A good rule to remember is that more (quality) data is better. With more variables, there are more data points and therefore more metrics to analyze, leading to better, more accurate results. When there is a surplus of data, there's no limit to variable data customization.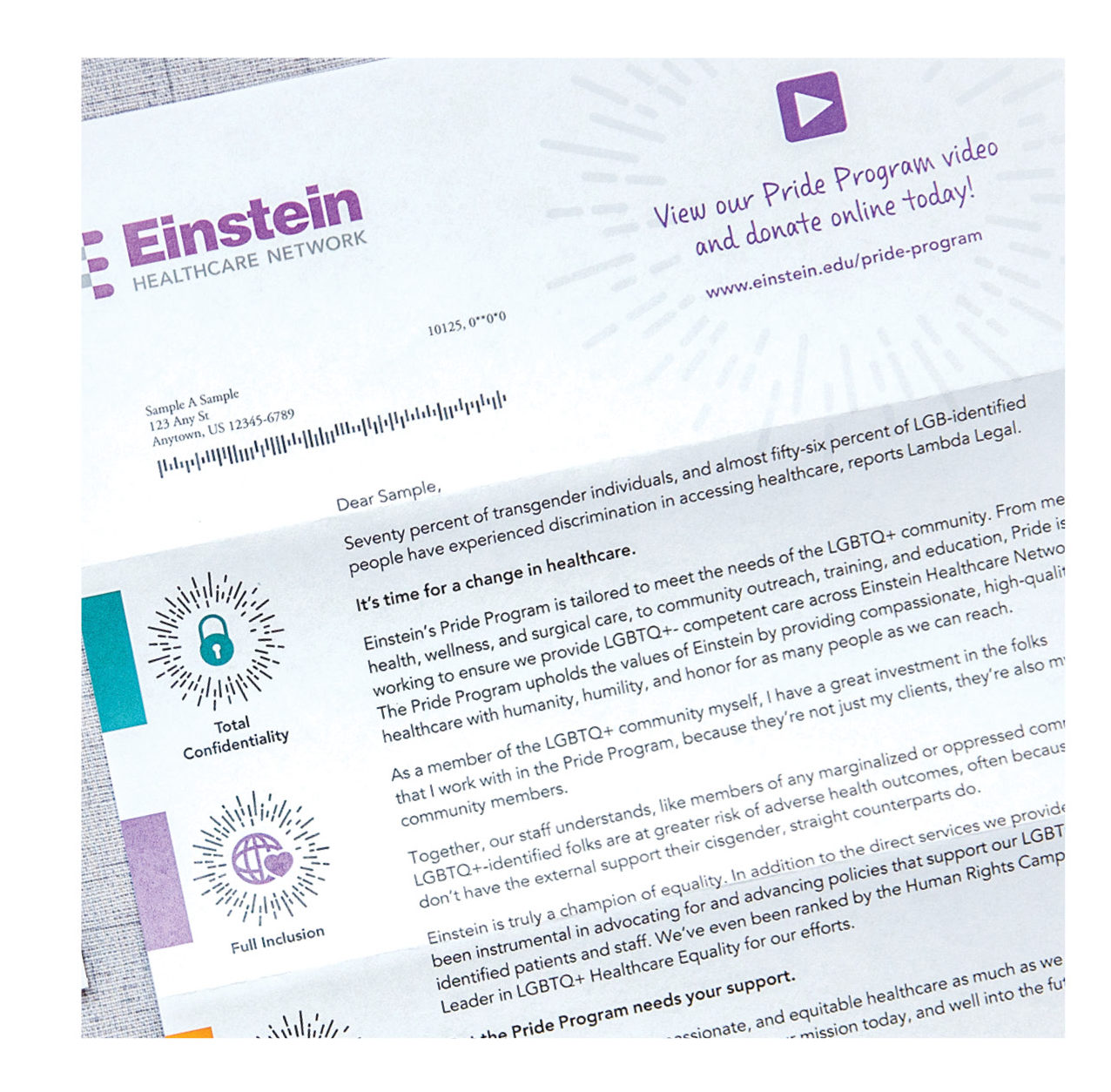 Personalized mailings like these, created by Graphcom, feature variable data, including name and previous donation amount, to entice recipients to give.
Preparing the Database
Once an organization knows what content they want to produce, the next factor is the database. Providing data is only effective if it's coming from an updated source (a surefire way to lose a customer is to spell their name incorrectly or mail to a family member who is now deceased).
Collecting quality data can be done more effectively through pre-production research. Using information received in the past, an organization can learn more about their audience to create customer profiles and predictive modeling. These models predict which recipients will respond best to specific messaging and imagery, creating a source for customized content.
With databases and proofs ready, production can begin. Intelligent printers use the database source to print unique documents all at once—but the process isn't limited to one piece. Matched mailing uses VDP to produce and insert multiple personalized pieces into a single mailing package. Using a small barcode, these printers are prompted to pull the correct names and addresses from the provided database, lining up all materials together to be sent to the recipient.
Measure, Evaluate, Evolve
After campaign materials are sent, data collection, testing, and measuring are the next steps. Measuring the ROI and response rates are basic ways to see if a campaign was successful on the ground level. However, digging deeper, like with A/B split testing, will show the results of the variable data more specifically.
With VDP, A/B testing is simple. Changing phrases, messages or tones, or entire designs gives insight into which versions provide the best returns. This testing can be done broadly or by a specific demographic. Testing of this kind provides understanding of what messages work best, so businesses can tailor their future content for better results.
Who is Graphcom?
Graphcom is an unconventional marketing firm: equal parts creative studio and production powerhouse. We plan, design, develop, execute, deploy, and analyze direct mail campaigns all under one roof. We provide custom printing and mailing solutions that include variable data capabilities to personalize your content for your audience. We're not afraid of the hard stuff— complicated data, multiple inserts, or regulatory compliance. We can do it all.
With Graphcom, you can rely on secure, personalized, and smart mailing no matter your industry. Our fulfillment solutions team works to put all of your content together so it's in the right hands at the right time. Dynamic success is what we aim for, making us an ideal partner to perform all your marketing initiatives with you.
Our Variable Data Capabilities
Creative Design (Copywriting, Graphic Design, etc.)    //  Mailing List Sorting & Merging  //  Match Mailing & Variable Data Printing  // Traditional Offset & On-Demand Digital Printing //  Custom Mailing Solutions  //  A/B Split Testing & Analytics
Does Graphcom Sound Like a Good Fit for Your Organization?
Let's get started on your next direct mail campaign.