Donor-Centered Environmental Graphics
WellSpan York Health Foundation Honors Donors with Graphics
Serving communities in Central Pennsylvania and Northern Maryland, WellSpan Health is an integrated health system comprised of more than 1,500 physicians and advanced practice clinicians. WellSpan provides regional behavioral health and home care through eight hospitals, more than 19,000 employees, and more than 170 patient care locations. WellSpan is a charitable organization committed to exceptional care, lifelong wellness, and healthy communities.
The Challenge
In early 2019, WellSpan announced plans to expand the York Cancer Center significantly. The new Center, located at the Apple Hill campus, offers comprehensive cancer care and added 67,000 additional square footage, giving the Center a total of nearly 84,000 square feet. Several oncology services currently provided at multiple locations are now consolidated into one space.
Donor Wall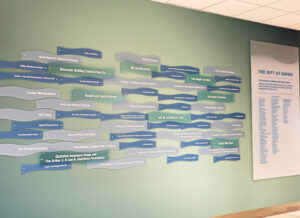 Donor Wall Close-up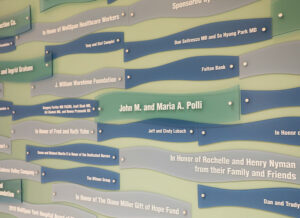 The Gift of Giving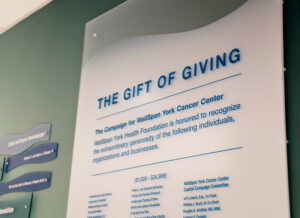 Donor Plaque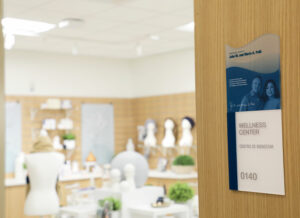 Donor Plaque Level 2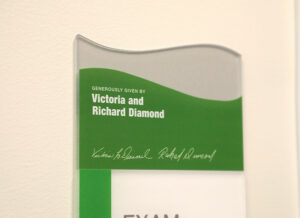 Donor Plaque Level 3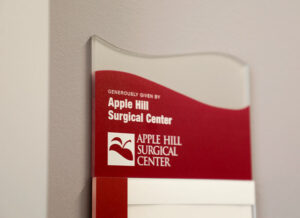 The Solution
Community and individual donors played a large role in making the new Cancer Center possible. The WellSpan York Health Foundation wanted to honor and celebrate them with striking graphics in the main reception area and throughout the floors of the new addition. These graphics needed to pay homage to donors while complimenting and continuing with the previously established "water" theme. The goal was to bring peace and tranquility to all who enter the Cancer Center's doors.
Graphcom, WellSpan York Health Foundation, and the architectural teams collaborated in a series of meetings to determine the best approach. Graphcom studied floor plans, visited the space, read through donor stories, and intently reviewed the theme and color schemes already in place for the new space. The Graphcom creative and signage teams then met internally to plan the direction, review the best material options, gather paint samples for color matching, and iron out a timeline that met the client's goal.
With this knowledge, Graphcom designed a series of comps that told WellSpan's and their donors' compelling stories and presented them to the WellSpan York Health Foundation and facilities management team.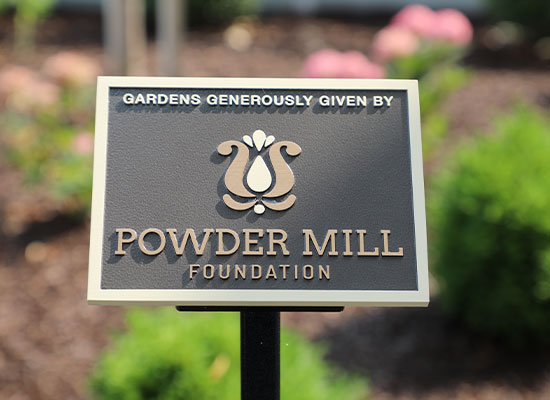 The Results
The space is stunning. We covered the large, 16.5' x 10' donor wall in the Center's main reception area with a Koroseal material. This material was chosen because of its durability and easy-to-clean capabilities. It was printed with a subtle water motif in blue and aqua that matched paint colors within the area. Donor names were printed on non-glare routed acrylic plaques that represented waves of water; a larger "gift of giving" plaque was placed to the right of the waves. This plaque was created using a clear, non-glare acrylic backer with a fine white gradient and can be updated if the need arises.
In addition, Graphcom designed and produced individual, routed acrylic room plaques that featured short donor bios and photos. These were printed in the corresponding floors' color schemes. We mounted each room plaque precisely to the corresponding room number and ADA plaques.
A bronze photo-relief, precision-tooled garden plaque was designed, fabricated, attached to a black metal post, and placed outside the Center to honor a special donor.
The Cancer Center's grand opening in summer 2021 allowed the community at large, stakeholders, staff, and donors to see WellSpan's vision come to life: a peaceful, tranquil space for patients to heal while receiving top-notch care.
Upcoming collaborative projects include the strategy, creation, and production of impactful new donor welcome packets. These packets will further tell the client's story so new donors are inspired to continually support the community through the WellSpan York Health Foundation's philanthropic initiatives.
"The signage looks absolutely beautiful. I have had much verbal feedback from the Cancer Center team that our leadership and docs love the donor signage. A huge project but it turned out great! Everything looks so sharp and clean."
Need Help with Your Printed Materials?
Whether you need help with just the printing or from concept to finished project, we can fill in all the gaps.