A Groundbreaking Fundraising Campaign
UMB Launches Largest Fundraising Endeavor in 211-Year History
The University of Maryland, Baltimore (UMB) is the only public health, law, and human services university in Maryland. UMB is dedicated not only to excellence in education, research, and clinical care but is well known for its commitment to public service. With 6,700 students enrolled in its seven nationally ranked professional schools, UMB produces a highly trained professional workforce to serve Baltimore, the state of Maryland, the region, and the world. The University of Maryland Baltimore Foundation, Inc. enlists financial support and manages and invests gifts and property for the benefit of UMB.
The Challenge
As the Foundation embarked on the capital campaign, Catalyst, to raise $750 million to support scholarships, endowments, faculty excellence, research, and special initiatives, it turned to Graphcom as its marketing partner. Catalyst was not only the first fundraising campaign of its magnitude at UMB, but it was also the first fundraising initiative to bring all seven schools together as one cohesive University. This campaign had to appease all stakeholders, speak to each school's priorities, and unify the campus.
The Solution
Graphcom partnered with the office of philanthropy and marketing/communications on the campaign strategy and design for the campaign. We produced the following deliverables for UMB's Catalyst campaign:
Research and interviews with leadership, fundraising staff, and faculty at each of UMB's seven schools
Cohesive campaign design with branding guide
An extensive case for support portfolio (eight versions, including one for each of the University's seven professional schools plus one for the central campus)
Photo and video shoots (five days of shooting more than 1,000 photos and one campaign video)
Gala event that included the public launch of the campaign
Mini case for support leave-behind piece
All campaign communications direct users to the microsite, where they can learn more about the Catalyst campaign, view photos and videos, and donate to the campaign to support the future of UMB in each of its mission areas—education, research, clinical care, and service.
The Results
As of the close of 2018, about eight months after launching the campaign publicly, the Catalyst campaign had surpassed $453 million in gifts and pledges, making it UMB's largest fundraising endeavor in its 211-year history. In addition to raising much-needed funds for the University, Graphcom was able to bridge the gap across all seven schools, which were previously siloed in their fundraising efforts, to make the Catalyst campaign a cohesive one that touched all aspects of the University. The Catalyst campaign website received a silver American Advertising Award from the American Advertising Federation of Greater Frederick.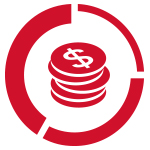 Largest fundraising endeavor in UMB history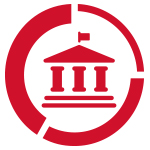 First integrated fundraising campaign across all 7 schools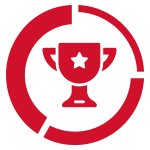 Honored with Silver American Advertising Award
The Catalyst campaign continues to raise funds for the University's initiatives to study and treat pain, addiction, and critical diseases and enhance entrepreneurship and community service. Today, Graphcom continues to support UMB with campaign resources as they raise funds and awareness for the Catalyst campaign and support individual schools with additional materials as well.
In 8 months, the Catalyst campaign raised more than
"We have been extremely pleased with the services provided by Graphcom. The firm and its staff collaborate in a true partnership model that allows our team to take advantage of the broad range of top-tier resources that Graphcom offers, while proactively monitoring and controlling costs."
Want Results Like These, Too?
Let's talk. Together, we'll strategize your next fundraising campaign and deliver results.