An Elevated Launch of Giving Societies
Allegheny Health Network Launches Their Giving Societies
Allegheny Health Network (AHN) represents nine hospitals and more than 200 specialty and primary care locations, with over 2,400 physicians in every specialty, 21,000 employees, and 2,000 volunteers. The Office of Development is the sole fundraising entity for AHN, supporting patient-centered care, through donor-centered philanthropy. They achieve this by collaborating with healthcare providers, patients, and the community to create a remarkable health experience, freeing people to be their best.
The Challenge
AHN's Office of Development was seeking a partner to help them embark on the branding and execution of a series of giving societies. The goal here was to not only thank donors for their gift, but to steward relationships and provide a feeling of exclusivity. In addition, they wanted to use the societies as a way to elevate donor gifts.
The Solution
AHN partnered with Graphcom on a series of deliverables for an initial launch and comprehensive campaign that included the following:
Naming conventions for each society that were meaningful and reflective of the AHN brand and their donor personas (Pioneer, Innovator, Visionary, Founders, Legacy)
A brand identity to visually represent each society
A brochure package including a suite of rack cards for each society, as well as a reply device
Initial campaign launch materials including a welcome package for each society level, varying from artist portraits to customized AHN planners for high-end donors, and letter packages for lower-level donors, welcome emailers, and landing pages to drive traffic to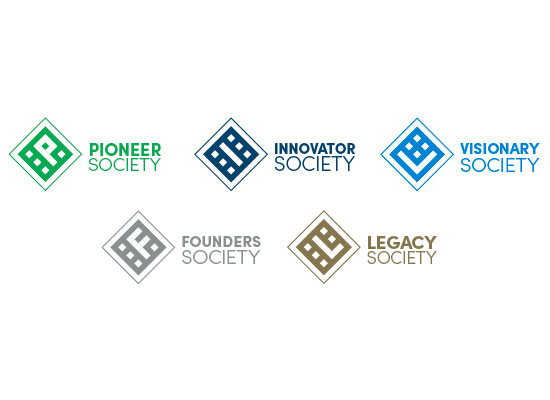 Each logo mark is built from the same grid system, allowing for conformity and uniqueness. Though the point size of the words adapt, their combined height remains consistent. 
The Results
The AHN team launched their giving societies by their desired timeline, January 2020, with the support of the Graphcom team. As part of our comprehensive strategy, we'll continue to support the giving societies by not only raising awareness, but elevating donors up the giving society ladder and into major gift opportunities. Additionally, we're creating a new society that is exclusive to AHN employees. Check back soon for an update on results!
AHN and Graphcom continue to have an ongoing, strong relationship. At this time, we are creating a new giving society exclusive to AHN employees and continue to create AHN stewardship pieces including newsletters, appeal letters, emails, donor stories, and more.
When this initiative is complete, employees can support the AHN causes that matter most to them—like the Colleague Assistance Fund and Nursing Education.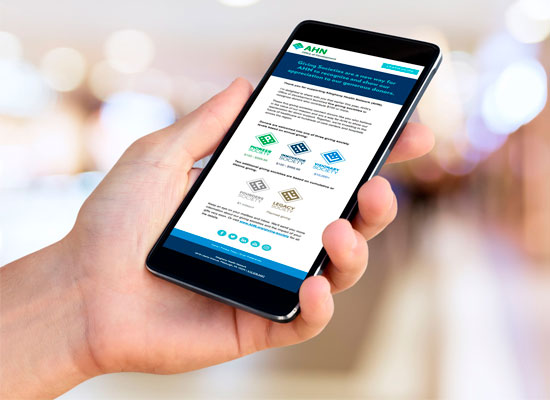 Ready to elevate your donor relations?
Let's talk. Together, we'll develop a comprehensive strategy to attract and improve your donor engagement.