Show-Stopping Environmental Graphics
Real Gaming Takes the Stage at Mount St. Mary's University
The world of competitive video gaming is a popular, fast-growing international phenomenon. Mount St. Mary's University in Emmitsburg, Md., has a growing esports program with an exercise regimen, priority course registration, and academic support. There are competitive and club teams. The program boasts a minor designed to be paired with majors like sports business and computer science. It prepares students with skills in team management, producing digital content, and network running.
The Challenge
With the introduction of the gaming minor and the growing nature of esports at the Mount, Purcell Hall was transformed into the esports department. The stage area is reserved for varsity esports practices and games, and the remaining space is open to all students on a social level.
The esports leadership team wanted environmental graphics to tell the program's story. The hope was to inspire current and potential students and make them feel excited about becoming a part of the program.
Purcell Hall Entrance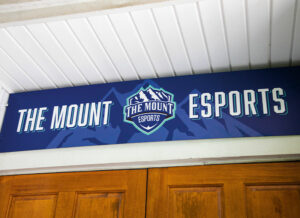 Interior Arc Wall Graphic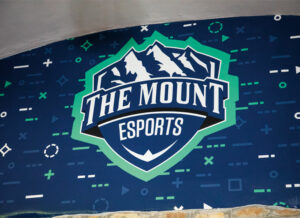 Wall Graphic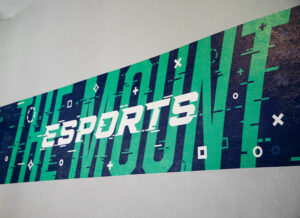 Wall Close-up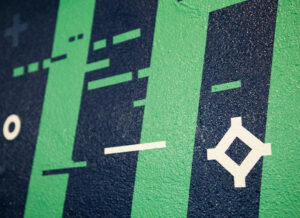 Window Graphics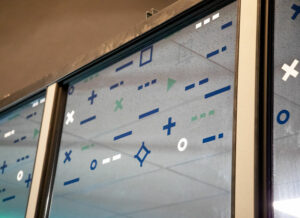 The Solution
Graphcom's creative and signage teams met with the Mount's esports program director to learn about the physical details of the space and the program's story and vision. A series of in-person visits allowed Graphom's team to see the building's character and aesthetic features firsthand.
With this knowledge, Graphcom designed a series of comps that embodied the Mount's esports program. Drawing inspiration from previous discussions, the design direction included consistent branding utilizing a secondary color from the university's pallet, subtle texture created with abstract elements, and design depth.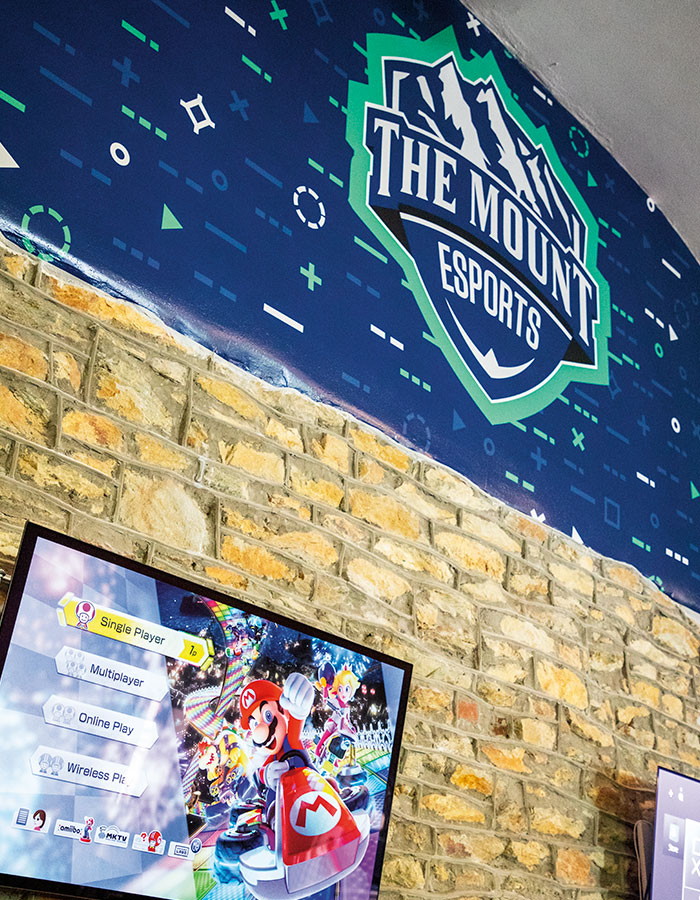 The Results
With a variety of substrates such as wall vinyl, etched window vinyl, and diebond, Graphcom brought the approved design to life. Purcell Hall's historic atmosphere was preserved but modernized to appeal to gamers and non-gamers alike. The space is now more appealing to each visitor that enters the building. To complete the project, the design theme was carried outside the building with signage clearly labeling Purcell Hall as the esports department, making it easier to find.
Upcoming collaborative projects include the strategy, creation, and production of impactful new donor welcome packets. These packets will further tell the client's story so new donors are inspired to continually support the community through the WellSpan York Health Foundation's philanthropic initiatives.
"The space looks great, thanks so much for all the work everyone did on this project."
Need Help with Your Printed Materials?
Whether you need help with just the printing or from concept to finished project, we can fill in all the gaps.