Five Reasons to Audit Your Database
Have You Audited Yours Lately?
Auditing your database has the power to unlock greater fundraising results. By routinely evaluating your database for accuracy, efficiency, and effectiveness, you can identify new opportunities to elevate the success of your organization. We know this to be true, because Graphcom regularly partners with healthcare, education, and nonprofit clients, like you, to make it happen.
Here are five compelling reasons to audit your organization's data:
1. Data Accuracy and Integrity
Making sure your database contains accurate, up-to-date information on your donors helps to maintain trust with supporters and stakeholders. Inaccurate data can lead to misunderstandings, wasted resources, and potentially harm your organization's reputation.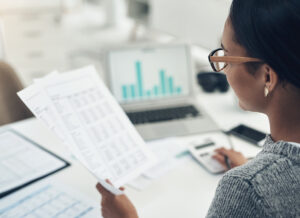 2. Fundraising Effectiveness
A clean and well-audited database helps target the right donors with the right messaging, making your fundraising efforts more effective. A database audit will allow you to segment your audience based on preferences, giving history, and engagement level, leading to more personalized and targeted campaigns.
3. Compliance and Trust
Your donors trust your organization with sensitive personal information, and there are legal requirements governing data protection and privacy. Auditing your database ensures compliance with these regulations, maintaining the data's integrity and your donors' trust in your organization.
4. Cost Efficiency
Maintaining a bloated or redundant database can be costly in storage and maintenance. A database audit can help identify and remove duplicate records, outdated information, and irrelevant data, leading to long-term cost savings.
5. Strategic Decision-Making
A well-audited database provides key insights into donor behavior, program effectiveness, and fundraising performance. It also helps identify top prospects and opportunities to develop programs further. Auditing your database empowers your organization to make data-driven decisions that enhance your mission and impact.
Auditing your fundraising database is a matter of best practice and a critical step in ensuring your organization's success and efficiency —partner with Graphcom on your next database audit to propel your organization toward achieving greater fundraising results.
Want to Boost Your Fundraising Results?
A database audit by Graphcom will help you achieve greater fundraising results.