A Cohesive Donor Campaign
Enhancing Support for World-Class Rehabilitation
Good Shepherd Rehabilitation Network offers world-class physical rehabilitation care, an exceptional patient experience, and leading-edge solutions to people recovering from complex conditions. There are more than 70 Good Shepherd locations throughout Pennsylvania and New Jersey, including long-term, inpatient, outpatient, residential, and pediatric care. Patients worldwide come to Good Shepherd for renowned groundbreaking technology, advanced treatments, and highly individualized care.
The Challenge
As a nonprofit, donations are crucial to sustaining Good Shepherd's mission. Before working with Graphcom, Good Shepherd solicited donors and established giving societies, but the Office of Development needed help examining and refining annual fundraising efforts. They sought a partner to help achieve several annual fund goals, including to:
create a unified message and design direction for Office of Development materials
increase donor base and annual fund support through direct mail outreach
gain a clearer understanding of segmentation and data analysis
implement A/B testing to obtain further insight into what is and isn't working
steward and elevate donors after bringing them into the pipeline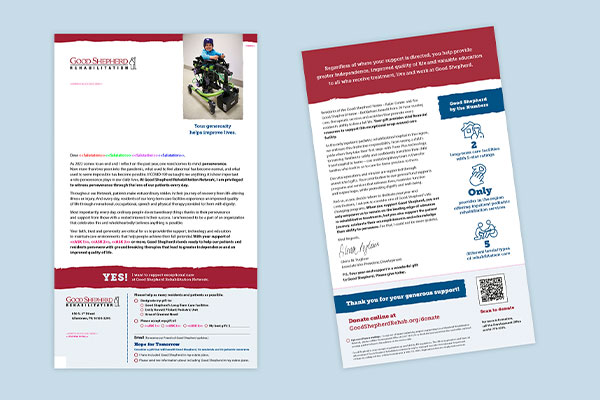 The Solution
Together, Good Shepherd and Graphcom embarked on a multi-step journey to enhance and refine the approach to donor outreach. Our team started by creating a fresh, cohesive, recognizable design and editorial direction for Office of Development communications. Our team also wrote, designed, printed, and mailed annual appeal letters with variable data testing, supplemented by emails and social media posts. We tailored the letters to relevant observances such as Nurses Week, Stroke Awareness Month, and Giving Tuesday, while highlighting patient stories and the organization's current needs. Graphcom also helped create a robust donor stewardship plan to ensure Good Shepherd donors were thanked on time and moved through the donor pipeline.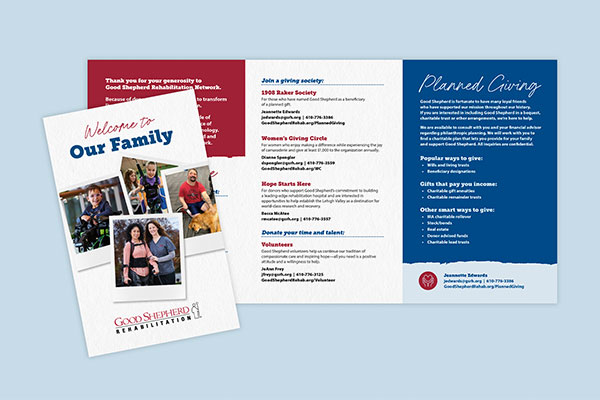 The Results
In addition to elevating Good Shepherd's donor outreach, Graphcom also helped the organization allocate its marketing funds more intelligently. By analyzing data from each appeal, we illustrated which tactics proved successful and what offered no return. The first appeal involving Graphcom, in October 2020, cost Good Shepherd 65 percent less than the previous year's mailing. We drastically decreased the number of people we sent to by intelligently refining the audiences, reducing Good Shepherd's cost per dollar raised (CPDR) to $0.64. Through strategic split testing, we learned which methods led to more donations, better response rates, higher donation amounts, and decreased CPDR for Good Shepherd. Before our relationship, Good Shepherd included wrapping paper as a premium in their end-of-year appeal. By split testing sending premiums vs. no premiums to donors, we discovered that the premium did not significantly impact response or gift amounts. With this knowledge, Good Shepherd could more intelligently spend their budget. We also found a correlation between specific topics and signatories and a higher response rate. Patient-authored appeals, for example, generated a higher response rate than appeals signed by the VP, and some elements did not impact Good Shepherd's donor response at all.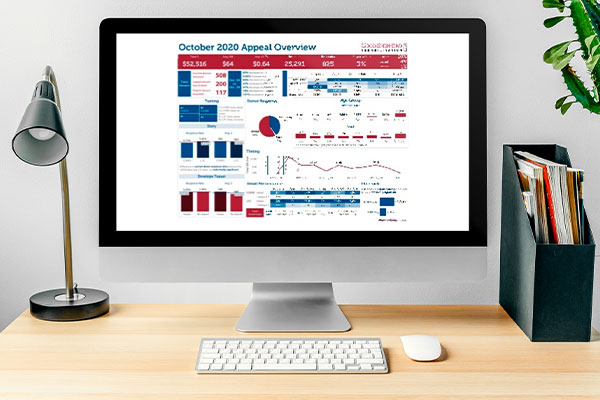 What's Next
As our relationship evolves, Graphcom continues to refine our approach through intelligent testing and multi-channel communications. We've helped Good Shepherd expand its outreach to include newsletters and impact reports that showcase everything donors make possible.
We Get Results.
Work with Graphcom on your next fundraising campaign.