A Guide to Temporary Signage
Using Temporary Signs for Your Business
What Are Temporary Signs?
Temporary signs are perfect for businesses and organizations that want to get a time-sensitive message across in a cost-effective way. Depending on the application, temporary signage can range from simple 24″ x 18″ yard signs to grand-format building banners up to 126″ wide.
Yard signs are useful for showcasing open houses, endorsing political candidates, honoring high school graduates, communicating safety information like temporary closures or policy changes, announcing store closings and openings, and more.
Temporary doesn't necessarily mean non-durable. Even in a temporary setting, if the sign is outdoors, exterior-grade material must be used. Typically, these materials are much less expensive than what is used for a permanent sign. Graphcom's temporary signs can withstand weather exposure and are available for both indoor and outdoor uses.
Banners, window vinyl, coroplast yard signs, and other sign types are regularly used as temporary signage because a permit is not required for installation.
Who May Benefit From Temporary Signs?
Depending on the need, any industry or organization can benefit from temporary signs. This type of signage can be especially helpful for builders, developers, property management, event planners, and political organizations that have a time-sensitive message to get across—like announcing an open house, new rental properties, or a campaign.
Wayfinding is another practical application for temporary signs. Perfect for events and construction sites, temporary wayfinding signage is ideal for eliminating confusion and helping people get where they need to be.
Graphcom's Temporary Signage Work
During the COVID-19 pandemic, Graphcom produced and installed outdoor "Heroes Work Here" banners for some of our healthcare clients to recognize the efforts of healthcare workers. These large banners are a great way to honor those on the front lines.
To honor 2020 seniors who didn't get a graduation ceremony due to the pandemic, we printed 200 yard signs, which were hand-delivered by the school district to each graduate. And to direct people to COVID-19 testing sites at Frederick Health, we created temporary wayfinding signs.
We also made temporary signage for a local developer of multifamily residential properties. These signs were made and installed at newly acquired properties while we produced their permanent signage.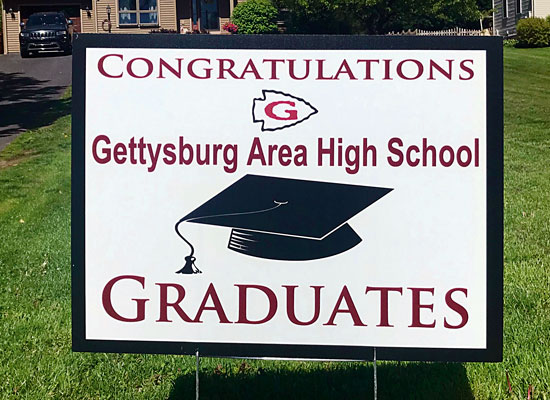 Temporary signs have a variety of uses, like these celebratory 2020 graduate yard signs. In spring 2020, Gettysburg Area High School contacted Graphcom to find an alternative way to give graduates the accolades they deserve in place of in-person celebrations during the COVID-19 pandemic.
Our Signage Capabilities
Temporary Signs   //  ADA & Regulatory Signage  //  Banners and Flags  // Indoor / Outdoor Signs  //  Vehicle Graphics  //  Trade Show & Exhibit Signage
Does Graphcom Sound Like a Good Fit for Your Organization?
Let us help you create signage that works for your business.