Personalized Commencement Boxes Lift 2020 Graduates' Spirits
Founded in 1832, Gettysburg College is a private liberal arts college surrounded by the Civil War battlefields of Gettysburg, Pa. Sitting on 225 acres, Gettysburg College is home to approximately 2,600 students that come from 41 states and 39 countries. The school hosts NCAA Division III men's and women's sports teams, known as the Bullets, as well as many club, intramural, and recreational programs.
The Challenge
With the threat of the pandemic came the need for Gettysburg College to pivot and provide alternative spring commencement activities for its graduating class of 2020. Although the college plans to hold an in-person commencement weekend in the fall, Gettysburg College wanted to celebrate their graduates immediately.
The Solution
As a way to celebrate 2020 graduates not long after their final classes ended, the Gettysburg College team decided to send each graduate a celebration box. The box contained fun and celebratory items, aimed at lifting graduates' spirits during an unprecedented time and letting them know that their college was celebrating with them. The Graphcom and Gettysburg College teams collaborated and brainstormed ideas that ranged from balloons and confetti to coffee mugs, food items, and more. Graphcom worked diligently with the College to figure out the best approach that would meet budget and timeline needs while bringing joy to the Gettysburg College Class of 2020.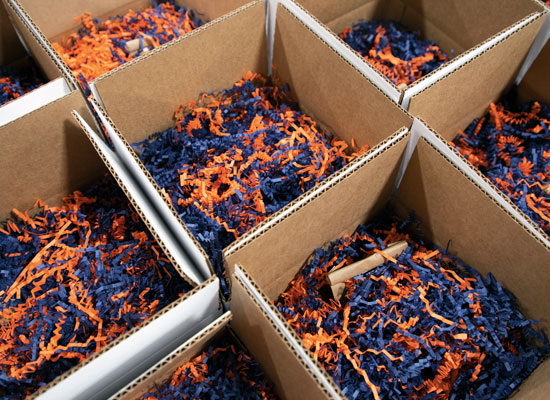 The Results
The result was spectacular! Each student received a box with a branded celebratory personalized label, which made them excited to see what was inside. In each box, surrounded by whimsical blue and orange crinkle paper, was a coffee pack from the graduates' favorite local coffee shop, cookies baked by the college's culinary staff, a branded coffee mug, earbuds, and a large notecard that encourages them to "brew, savor, sip, and listen." These were all mementos to help remind the graduates of moments that made their experiences at Gettysburg College unforgettable. The boxes of special treats were a reminiscent nod to time spent on campus.
What's Next?
When the in-person ceremony and related activities take place on October 9-10, 2020, Graphcom will again partner with Gettysburg College. By producing their baccalaureate and commencement programs, Graphcom will help Gettysburg College give further recognition to this talented, successful, unique class of 2020.
"Thank you for keeping this job moving along for us."
Have a Unique Marketing Request?
We'd love to help. Graphcom's team has the talent and knowledge to achieve your vision. Let's talk!