A Practical Signage Solution
Donegal Insurance Brands Training Center With Outdoor Signage 
Donegal's family of property and casualty insurance companies provide personal and commercial insurance across multiple regions of the United States through a network of independent agents. We're proud of our heritage, which spans more than 130 years in the insurance business.
The Challenge
When Donegal decided to rebrand its Training Center, they turned to Graphcom for help. Donegal needed signage that clearly labeled the building for their agents, and adhered to the Company's brand standards as well as fit the modest budget for the project.
The Solution
After reviewing the current signs and Donegal's submitted artwork, Graphcom brainstormed ways to effectively and efficiently design, create, and install the new signage. We determined that if the new signs remained a similar size to the old ones, and stayed in the same position, permitting would not be required and a site visit would not be necessary. These were the first steps in saving time and budget dollars. Additionally, by creating square-cut cabinets for the free-standing signs as opposed to rounded, we found Donegal additional savings.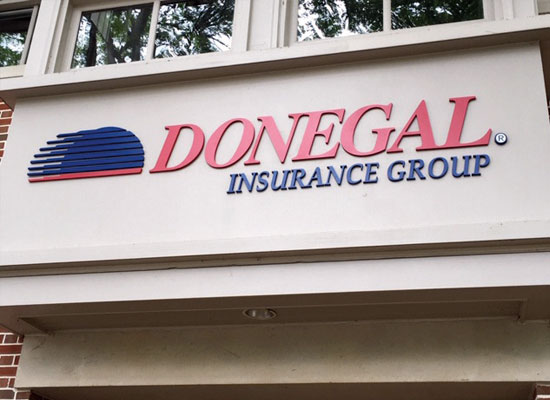 The Results
The results were bold and stunning. Graphcom printed, manufactured, and installed three signs: one directional sign at the entranceway, one monument sign close to the road, and one building sign. Each sign was simple and sleek, so trainees could easily find the building, know where to park, and know where to enter.
"The signs look great! We've been getting a lot of compliments from our staff, and the training center is now so easy to find."
Want to Make a Statement With Signage?
Let's talk. Whether you need indoor or outdoor signage, banners, or anything in between, Graphcom creates stunning signs to match your brand.