A Strategic Case for Support
How MedStar Washington Hospital Center and MedStar Heart Institute Tugged at Their Readers' Heartstrings
It knows neither race nor gender, but each year, it kills a higher proportion of residents in D.C. than in any other U.S. state. When cardiovascular disease strikes, the renowned cardiac care imaging specialists, cardiologists, surgeons, radiologists, and electrophysiologists of MedStar Washington Hospital Center and MedStar Heart Institute strike back.
The Challenge
The team—which has performed more than 60,000 cardiac surgeries and has the region's highest annual patient volume—struck back against cardiovascular disease in a big way with a new state-of-the-art facility for MedStar Heart Institute. But first, they needed to complete a $30 million capital campaign to secure the funds needed to build.
The project was awesome by any stretch of the imagination, but the Graphcom team was challenged with bolstering that "wow" factor of this project, working with the MedStar Washington Hospital Center development staff to create a case for support that tugs at the heartstrings: "The Future of Cardiac Care in the Nation's Capital."
"It should be said that the case for fundraising, taking into account what has been said about people, causes, and giving, should aim high, provide perspective, arouse a sense of history and continuity, convey a feeling of importance, relevancy, and urgency, and have whatever stuff is needed to warm the heart and stir the mind."—Harold J. Seymour, Designs for Fund Raising (Taft Group, 1992)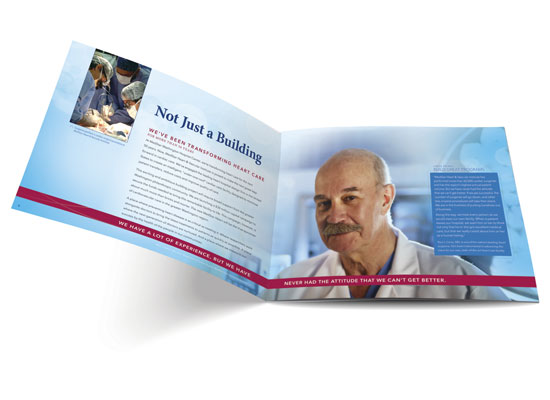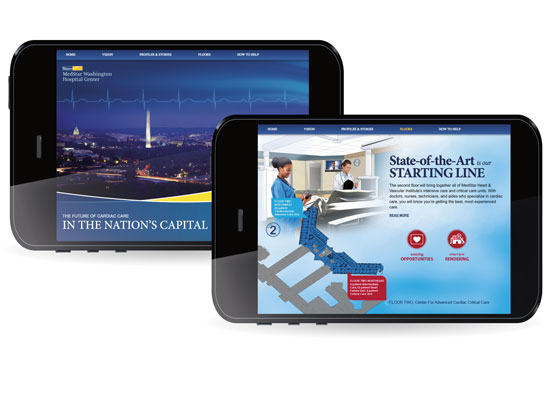 The Solution
Like we do with all projects, Graphcom used our five-phase approach to execute a stellar fundraising initiative that warmed the heart while stirring the mind. We collaborated with MedStar Heart Institute on a multifaceted communication and marketing plan to support MedStar Washington Hospital Center's development efforts. Early in the process, we identified a need to create a case for support targeted to key constituents that would move people to contribute to the campaign.
We created a visually stunning case for support book, while simultaneously strategizing an overarching development outreach plan incorporating video, websites, messaging, and more. Each page of the book introduced the reader to a MedStar Heart Institute patient or cardiac care specialist who shares depth and perspective about the facility, its professionals, and the outstanding care offered in virtually every cardiac discipline. Photos, text, design, and paper combined beautifully for one polished presentation. Once Graphcom's presses stopped rolling, we held in our hands a case for support that not only dazzled the eyes but stirred the minds and pulled at the heartstrings.
Be Bold & Put Some Heart Into It!
Need help executing your case for support? Graphcom can help you turn readers into donors through our storytelling, graphic design, printing, and more.