A Targeted Appeal to Animal Lovers
Helping Animals Get the Care They Deserve
Founded in 1906, the Lehigh Valley Humane Society is a haven for homeless animals and an advocate for the prevention of animal cruelty. LVHS examines, vaccinates, and cares for all animals brought to them until they can find a forever home. LVHS frequently collaborates with reputable adoption partners, breed rescues, and foster groups. Those who donate to LVHS support the LVHS shelter, community vet clinic, animal rescue teams, and more.
The Challenge
While LVHS was moderately successful with direct mail solicitation, the organization lacked the resources to take its outreach to the next level. Our collaboration began with goals to analyze and test outreach efforts, expand their donor database, and ultimately, increase donations.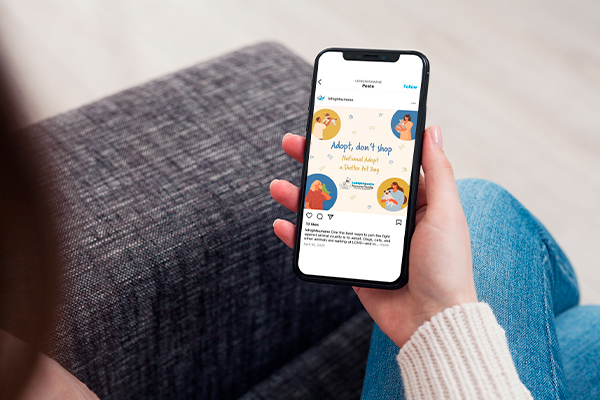 The Solution
Before partnering with Graphcom, LVHS mailed out a fall appeal, but not an end-of-year appeal. By adding an EOY appeal in our first year of partnership, donations totaled nearly $50,000 and the client's cost per dollar raised (CPDR) decreased by 3% from the previous year.
Despite adding an additional appeal, the number of pieces sent decreased by 22%; an achievement accomplished by using much smaller mailing lists including all donors and non-donors randomly selected from the LVHS contact list. We focused on targeting non-donors in LVHS's closest communities and those who are pet owners.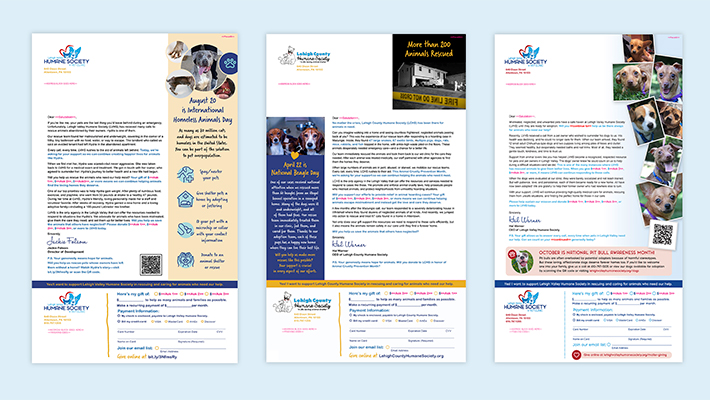 The Results
During the first year of our relationship, LVHS gained more than 500 new donors from appeals, average gift amounts increased to as high as $65, and their average CPDR for appeals has remained at $0.60 or less.
What's Next
We continue to test and analyze appeal strategies. Notably, we tested sending a follow-up letter vs. no follow-up, discovering that the follow-up significantly impacted only the current donor audience. Now, LVHS only mails a follow-up to this audience.
Perhaps most importantly, our partnership allowed LVHS to focus on their ambitious (and successful!) campaign to renovate and expand their facility, helping even more Lehigh Valley animals get the care they deserve.
"The team at Graphcom is fantastic and always a pleasure to work with. They are responsive, knowledgeable, and very detail oriented. They completely changed how we approach direct mail appeals, and have taken our designs and strategies into the modern era with excellent fundraising results. Graphcom also provides all the signage for our annual golf tournament fundraisers, and we could not be happier with the quality of everything!"
Take Your Fundraising Appeal to the Next Level.
Our team's expertise helps turn your goals into reality.