An All-Encompassing Awareness Campaign
Frederick Health Brings Awareness to MD Anderson Cancer Network® Affiliation
Frederick Health has cared for the healthcare needs of the quickly-growing Frederick, Md. community for over a century. In the late 1890s, Emma Smith began a personal campaign to build a hospital in her hometown, "to provide a place that would care for the sick, comfort the injured, and provide peace of mind to all who live in a town called Frederick." Today, as Frederick Health, it remains the place Emma Smith envisioned.
In 2016, Frederick Health became the first and only hospital system in Maryland to become a certified member of MD Anderson Cancer Network®, a program of the nationally-ranked MD Anderson Cancer Center.
The affiliation allows Frederick Health's cancer team to use treatment guidelines and best practices of MD Anderson Cancer Network®—the global leader in cancer treatment—to bring renewed hope to cancer patients close to home. Since Frederick Health's cancer program was already up to par with MD Anderson qualifications, the accreditation process was fairly simple.
The Challenge
This affiliation was a milestone for the Frederick community in terms of close-to-home cancer treatment with a national level of care. However, Frederick Health needed to increase awareness as to what this affiliation meant for its healthcare team, the cancer treatment it provides, and the community as a whole.
Before the campaign launched, MD Anderson Cancer Network® lacked name recognition with Frederick County residents, Frederick Health patients, and even employees. These individuals did not understand the value of this affiliation. Frederick Health also lacked in physician referrals, and despite existing communication, news of the affiliation barely received attention from the press. That's when Graphcom came in.
Graphcom assisted Frederick Health with an integrated marketing campaign to raise awareness and highlight this new partnership to the Frederick County community. This campaign launched in fall 2016 and involved various mediums such as print, web, TV, radio, and video—including videos centered around six local cancer patients, and later, four MD Anderson Cancer Network®-certified physicians at Frederick Health. Graphcom also created a quarterly dashboard to monitor oncology efforts at the hospital.
Throughout this campaign, Graphcom strengthened Frederick Health's ties to the community and within the network to improve patient outcomes while building brand awareness. The campaign focused on reaching three target audiences: the public, Frederick Health staff, and referring physicians.
A new tagline for the affiliation was also created.
The Results
Through its partnership with Graphcom, Frederick Health was able to raise awareness and educate employees and community members about the significance of the MD Anderson Cancer Network® affiliation. Not only did Graphcom help raise broad awareness for the affiliation, but this campaign was also the catalyst for the strong, ongoing relationship Graphcom has with Frederick Health to this day.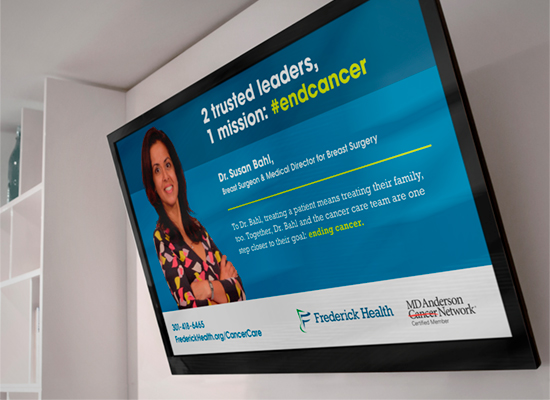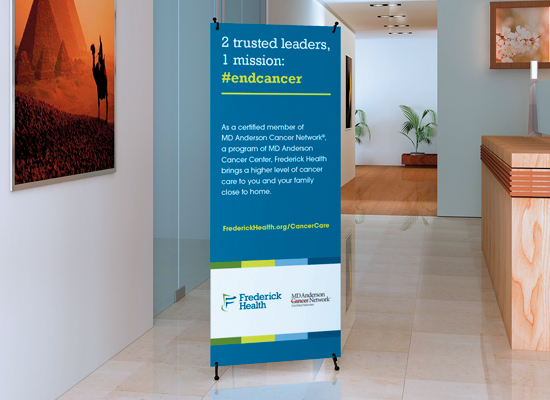 Graphcom learned from community feedback that there is a need for continued, ongoing communications around the MD Anderson Cancer Network™ and Frederick Health affiliation. There are plans for Graphcom to create an additional phase of marketing to continue educating Frederick Health staff, patients, and the surrounding community about the affiliation's benefits.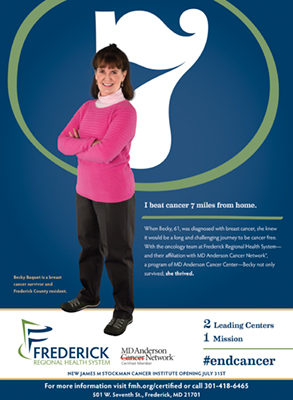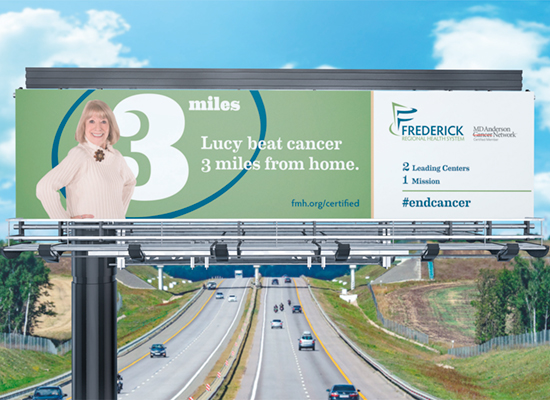 Want to Connect With Your Audience?
We're ready to get started on your next marketing campaign.