A User-Friendly Digital Storefront
Frederick Health Streamlines Inventory Management
Over the last 25 years, Frederick County's population has grown by nearly 40 percent, representing an increase of an estimated 95,000 people. To keep pace with that growth, Frederick Health, the area's leading healthcare provider has expanded significantly as well.
Frederick Health includes a network of providers offering primary care, family medicine, and a wide range of specialty services in the form of the Frederick Health Medical Group. Their physicians and clinicians work closely together to provide the best possible treatment plan and follow up care for all of their patients. With nearly 2,700 employees and 233 licensed beds, Frederick Health is one of Frederick county's largest employers.
The Challenge
Frederick Health had a storefront for the health system, where users could log in to purchase items like stationary, collateral, signage, and more. This allowed them to automate their ordering so that it did not have to channel through one department.
While the storefront served a purpose, it also posed many challenges. Specifically, Frederick Health found that there were a lot of obsolete products in the system, and it was difficult to manage inventory. Unfortunately, this led to products being ordered that no longer had the correct brand identity or accurate information. Additionally, the system was not easily navigable, creating a not-so-friendly user experience.
In the midst of a rebrand, the organization was worried that the system would continue to offer obsolete products, creating confusion among users and hindering brand integrity. Frederick Health sought a system that had the potential to evolve alongside their brand. Trusting in their long-term partnership with Graphcom, Frederick Health's Marketing Department turned to us for a product and service that could better meet their expectations and needs.
The Solution
Coinciding with the launch of their new brand, Graphcom proposed a new storefront for Frederick Health. Our storefront process offered a streamlined approach to inventory management and order history. In addition, we set up the system so that products are easily navigated by department and product type, with room for growth. This made the tool more intuitive and easily navigated by users who don't utilize it routinely. We also implemented strict check-out requirements for users, a capability that fell short in the previous system. We implemented Cost Center and EOC fields, which gave Frederick Health the accounting controls they needed to create a seamless operation between customers, their mailroom, and their accounting department.
Along the way, we've collaborated with the Frederick Health team to test out the system, troubleshoot user issues, schedule product demos, and more. We routinely add new items to the storefront, as the needs arise.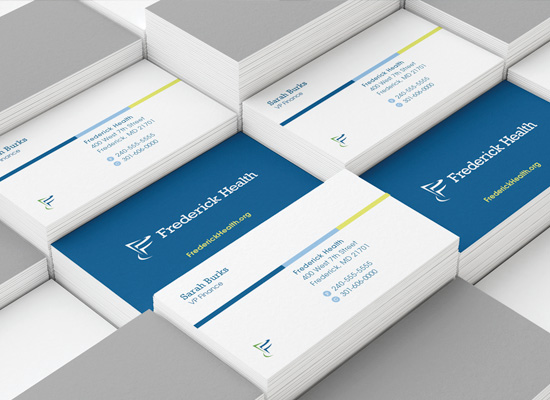 The Results
In early 2020, we were able to roll out the new storefront, giving employees access to all of Frederick Health's newly branded materials. We've received amazing reviews from frequent users of the system, who say that the experience of using it has been great, and that our customer support has been extremely helpful along the way.
What's Next?
We continue to add items to the storefront for a variety of services lines like the Frederick Health Medical Group, Hospice, Development Office, and more. Our next step will be to move to variable, pre-approved marketing templates that allow individual departments to create their own collateral without using Frederick Health's Marketing team as a middleman. This automates the process for those in need of the collateral, but also allows Marketing to feel comfortable knowing that users will be restricted to already-approved templates.
Our relationship with Frederick Health continues to thrive as we act as a natural extension of their marketing team for all things editorial, design, social media, printing, mailing, signage, and more.
Interested in Seeing What a Digital Storefront Can Do for You?
Whether you need new inventory management or your current system needs a refresh, Graphcom can help.