Simplifying Pledge Reminders with Automation
AHN Successfully Customizes Pledge Reminders for Donors
Allegheny Health Network (AHN) represents 14 hospitals and more than 200 specialty and primary care locations, with more than 2,400 physicians in every specialty, 21,000 employees, and 2,000 volunteers. The Office of Development is the sole fundraising entity for AHN, supporting patient-centered care through donor-centered philanthropy. They achieve this by collaborating with healthcare providers, patients, and the community to create a remarkable health experience, freeing people to be their best.
The Challenge
AHN's Office of Development allows donors to pledge donations to a hospital or program of their choice. Development officers were tasked with manually following up on pending pledges, which took away from their frontline fundraising priorities. To spend more time with donors and less time sending letters and emails, they needed to streamline their efforts. Graphcom creates many different print and email campaigns for AHN, including an automated stewardship series and annual fund mailings. We knew there was a better way to connect with and remind donors of their upcoming pledge gifts.
The Solution
Graphcom solved these challenges by creating automated workflows in Luminate that trigger specific communications to donors. This multi-channel process included both direct mail and email and was customized based on whether a donor's pledge was due soon or past due. We added variable details like payment date, original pledge amount, current balance, and due date. We created the process, so Graphcom seamlessly receives this data each month and sends out the communications by the end of every month.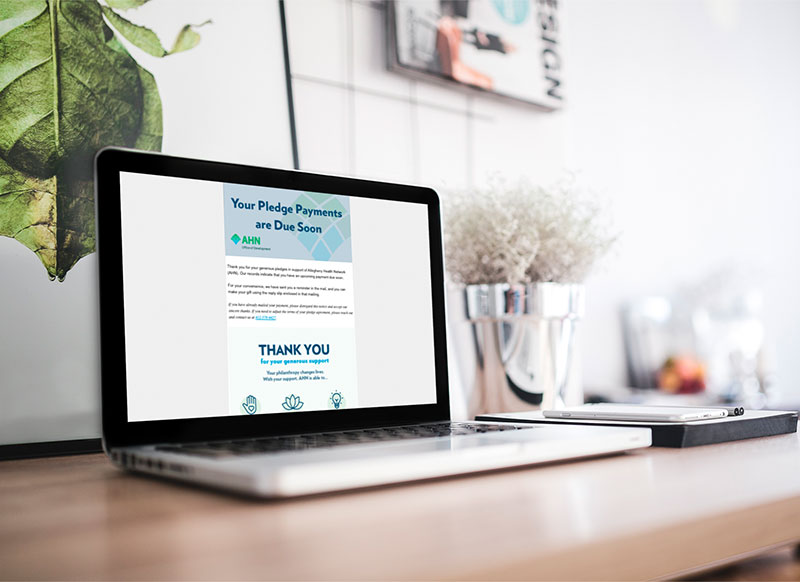 The Results
AHN expressed that this automation and variable data reduced the backlog of pledges and the time spent cleaning up pledge reminders each week. They consider it to be successful for their team. The goal moving forward is to keep the backlog down as we continue to send communications proactively on behalf of AHN.
Want to Save More Time on Pledge Reminders?
Let's discuss content, design, development, and automation for pledge reminder emails and direct mail.